Some Dinosaurs
Gallery Article by Rodney Williams on Jan 6 2004
Silly Week 2004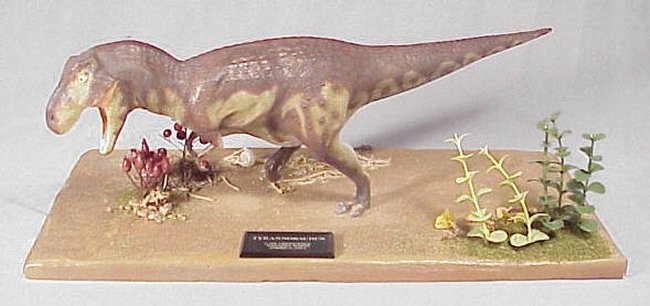 About eight years ago, my grandson Jonathan wanted me to buy him a dinosaur model to build. There were two small dinosaur's in the kit. I helped him a little bit, and I got hooked, and bought myself the same kit. I don't recall the size of my "dino's" and I forgot what the name is.

Jon put his two "dino's" on the kits base, while I made separated bases for mine, using plaster of paris. My mind is a blank when it comes to, "what I used for coloring in my two bases?" One thing I like about building these models is the fact that you can use any color of paint you desire, and no one can dispute the colors, nor pull out a color chip chart.

My Tyrannosaurus Rex kit was made by Tamiya, and came with a "diorama" type base. I choose to make my own, using the plaster, then covered it with sand. I put in some fake plants. While outside getting wood for my fireplace, I found a dead bird, which had decomposed. Hey! this looked like a extinct flying dinosaur type of bird, so I added "him/her" into my little diorama. This kit went together ok, but my problem was trying to cut in all the scales where the legs fit to the torso. The kit was made out of vinyl, which cut ok, but trying to sand it was next to impossible. The model was painted with my Tamiya paints. I used my Waldron "punch & die" set to punch out color decal film for the eyes.

My last "dino" I built was the Triceratops, made by Tamiya. It too, had a diorama base, with two little "dino's," and some fish. I built my base using the plaster, and created a stream and a little pond for the fish. I bought some liquid water over at the craft center, and poured some into the pond, and let it get almost dry. I placed my little fish in it, then filled up the pond. After it dried, I put some water into the stream. A few days later, it was dry and looked like real water.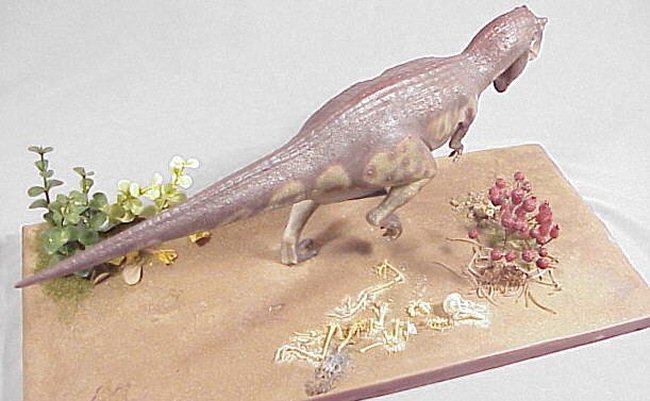 My grass comes from the hobby shop and the greenery is from the bushes in my front yard. The green leaves look real, but die soon. Every time I took it to a show, I had to go cut some more green stuff. Again, this kit was easy to assemble, but the vinyl really has to go. I painted the big guy with a two tone grey paint job. I hand painted the tiny black stripes on the little dino's.
I opened up the nostrils on all my animals, cleaned up the big foot claws. I cleaned up the teeth as best as I could, and added some teeth, as they were just not molded in properly.

Maybe someday I'll build another dino, as they are simple kits to put together. No scratch building, no alignment problems, and no decals to fuss with. Just shut your eyes and grab a couple bottle of paint and go for it.

Happy Modeling!
Rodney Williams
Click on images below to see larger images