1/48 Airfix Sea Harrier FRS1 (SHAR1)
| | |
| --- | --- |
| | Gallery Article by Bill Clark |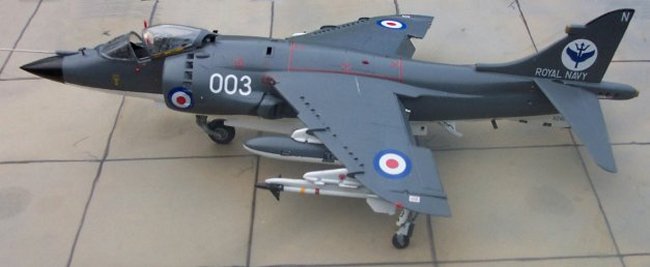 1/48 Airfix Sea Harrier FA2 converted into a Sea Harrier FRS1 (SHAR1)
This is Airfix's 1/48th scale Sea Harrier FA2 (SHAR2) "back-converted" into a Sea Harrier FRS1 (SHAR1). Airfix's SHAR1 kit is okay, but the SHAR2 kit's fuselage features engraved panel lines, I reckoned that it was just as easy to convert the fuselage of the FA2 as re-scribe the FRS1. The same amount of re-scribing needs to be conducted on the wings and tailplanes anyway. Additionally, I used Airwaves Ejector seat. The ladder is from Flightpath, Sidewinders from Airfix's Jaguar, undercarriage from Monograms' AV8B (long since consigned to the spares box!!). Additional detail is from plastic card - this includes the wing vortex generators and fences, and the auxiliary intake doors.
The conversion itself consists of removing the section aft of the wing root, and adding the pointed nose. Originally I thought of using an Airfix SHAR1 nose, but that would have defeated the object somewhat, (that will feature on a Hunter T8M - whereas the FRS1, minus its pointy nose, is being converted into a Kestrel FGA1) so the new nose is Milliput over a chunk of plastic sprue.
The underside white colour is Halford's WhitePrimer, the top surface is Humbrol 123.
There's been a few questions lately as to which is the most accurate Extra Dark Sea grey, and to me this paint replicates BS381c640 just about right. Humbrol also recommend 125, this is okay for '640 that's faded a bit and lost some of the blue...
Decals are from Aeromaster...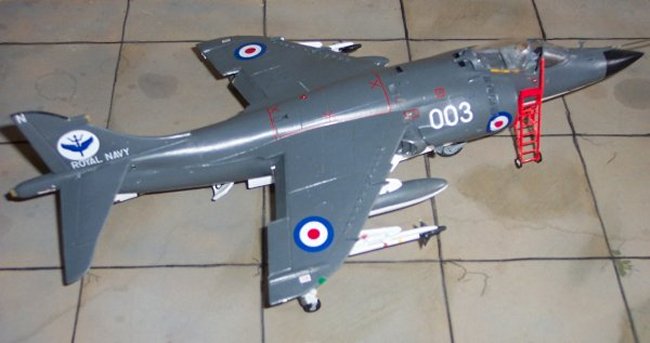 Anyway, hope you enjoy this, any questions or comments, criticisms whatever, you can simply post on the forum or E-mail me.

Cheers
Bill Clark