Alaska Airlines "Wild Alaska Seafood" Livery
This build was driven by my reading an aviation magazine and seeing a distinctive Alaska Airline Boeing 737 painted to show a full length fish on both sides of the fuselage. I had to await notice of when a kit or decal maker came out with the unique fish decal before I could fulfill my desire to build a replica. It took a Russian model maker, Eastern Express, to come out with a kit cum fish decal, in the traditional 1/144 scale for airliners. But first looks were deceiving!

Within the box were Boeing 737 kit parts, plus the one-of-a-kind fish decals for the fuselage. It turned out, though, that both kit and decals had faults. With regard to the kit, Eastern Express needs considerable refinement of mold tooling, as the fit between many plastic parts was much less than perfect. The two-piece wing assembly alone, for example, caused me to write it off and substitute a commonly obtained, better tooled Minicraft kit. The Eastern Express wing parts, with the underside wing part molded shorter in width than the top, resulted in a large step mismatch where the upper and lower parts met. Only considerable filing and/or sanding of wing parts could have removed the step. I felt life was too short for such arm-breaking work, plus one had to appreciate how much from each wing part to remove to prevent excess thinning. I purchased a Minicraft 737-300, as this was the same scale size as the Eastern Express offering - and the wing halves were molded full size, meaning no step when assembled.

Even with the successful substitution of a similar kit, I found to my horror - when I superimposed one of the fish decals against the assembled fuselage - the Eastern Express decal was scaled for a larger 737 variant, more specifically a 737-500! And adding more frustration, my frantic effort to locate a Boeing 737-500 kit on the market (Ebay or Amazon) proved fruitless.

Solution? Eliminating suicide as an option, I examined the Eastern Express fish decal and found an optimal section for splicing, i.e. making the decal shorter in length. Only shortening a decal with this amount of detail could only have worked, as using a longer Boeing 737 kit variant, like a -700 or -800, would have required adding a decal section filler to make it fit properly in location. (Only the most skilled, driven modeler could have duplicated the fish skin details and colors on the fuselage in this case.)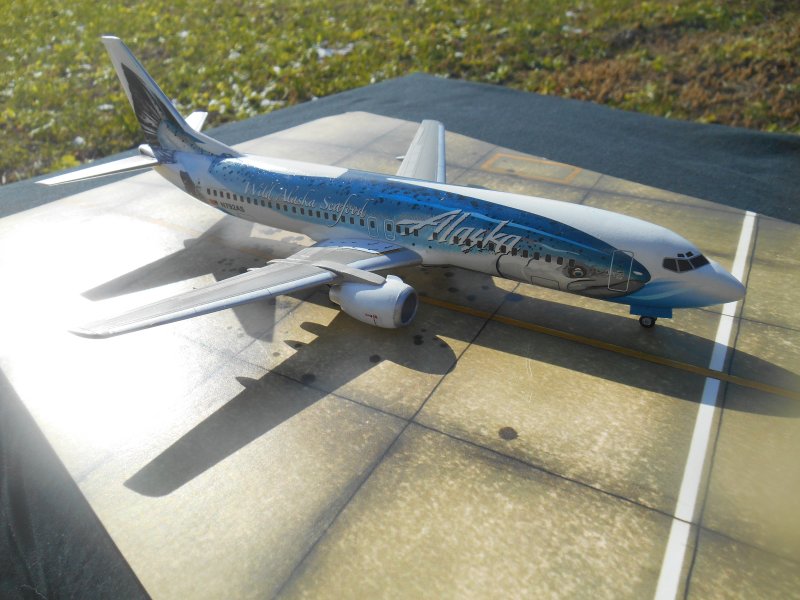 The build itself was per usual practice for me: Besides fashioning a nose weight and securing it inside the fuselage before gluing the halves together, I used both buffing aluminum plate and Bare Metal Foil for leading wing and stabilizer leading edges. The Minicraft kit is bare-bones basic for surface detail, which in this case doesn't matter, as the fish decal captures one's attention.

I submit one has to look unnaturally close at the attached photos to see where I spliced the fish decals. I also included a photo simulating the aircraft in flight, in landing mode, to clearly show the decal fish gill wrapping around to the underside of the aircraft. I purposely left out of view my paw holding the vertical stabilizer, while holding the camera steady with my other paw.
Carl Jarosz