Here is my Hasegawa AV-8B, to which I added several parts of a Aires resin/PE cockpit set - plus quite a bit of home-made work. The resin cockpit tub and sidewall parts fit very good, requiring only minimal modifications to the kit parts. Some smaller details were scratch-built on the cockpit edges. I used the kit's instrument panel as this looked more realistic than the rather flat instrument PE parts. The instrument panel cover is also from the kit, with a few details added to make it look a bit more busy.

I couldn't get the kit's canopy glass to fit onto the Aires framing: also here the kit framing was used instead. Initially I tried to glue the Aires PE detonation cord inside the canopy using very small dots of white glue - but as I was not happy with how this looked, I replaced it with a decal from a SuperScale sheet: much better!

Front wheel well doors were cut out and positioned open, as is quite common for powered-down Harriers. I scratch-built the complete interior of the front wheel bay as well as the RCS nozzle under the nose which is missing entirely. The boarding steps on the starboard cockpit fuselage were drilled out and new steps were scratch-built to show them in opened position. Brake lines and a few smaller details were added to the landing gears.

Putting together the wings, intakes and fuselage was quite a challenge, with lots of test-fitting, sanding, filling gaps and re-scribing of panel lines. Some nasty gaps inside the intakes/fan area also had to be closed using plastic card, and were then sanded flush.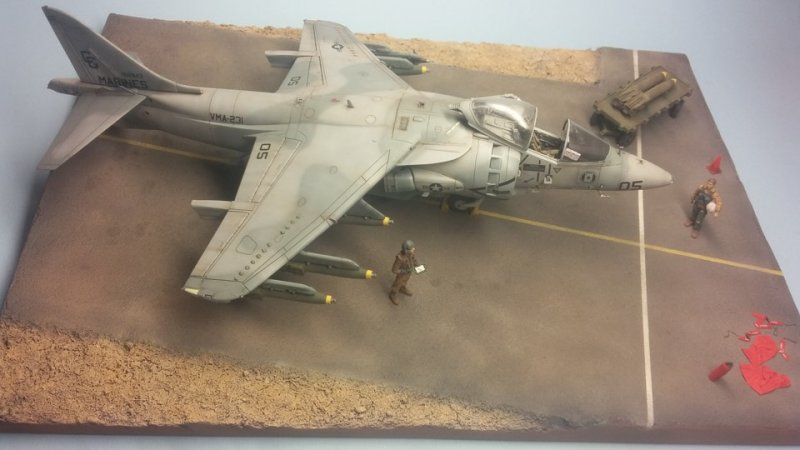 The model is finished as a USMC VMA-231 "Ace of Spades" aircraft, in Desert Storm configuration, around February 1991, operating from Saudi Arabia. The very good AIM-9 is from the kit, resin Mk.82 Snakeyes are from Verlinden. I used enamel colors throughout painting the aircraft, with the 2 basic colors being Humbrol no. 127 and no. 145. Very light and diluted coats of Humbrol no. 127 (to some coats a few drops of Model Master's French Dark Blue Gray were added, to others a drop of white) were applied in an irregular pattern to blend everything together and to give the aircraft a well-used look. I also applied a bit of pre- and post-shading on selected areas, panel line washes, spot oil washes and some dry brushing to make the aircraft look weary. Decals came from a SuperScale sheet and the kit (data stencils mainly). The Snakeyes received some weathering with pigments, to give them a dusty look.

For the desert flight line diorama a pilot from Legend was used, the ground crew member is a Verlinden chap. The bomb trailer and accessories are also from Verlinden, with Remove Before Flight tags from Eduard and some home-made intake covers completing the scene.

Overall, this was definitely not the easiest kit to build, due to the pretty complex shape of the aircraft and the breakdown of various parts. As I have a couple more of these kits in my stash, I took my time with this build. In the end, I put quite some work in this one, but am very pleased with the outcome as Hasegawa's Harrier builds into an impressive model!!

Enjoy the pictures!
Patrick Vossenberg