This project was started in 2012 and finally completed after a 2014-17 intermission. The deployment to Norway in 2004 provides, for me at least, the most interesting Harrier scheme. Additionally, my aim with ZD379-27 was to show the somewhat irregular camouflage scheme etc. The problems with this kit are well known and this is an attempt to address as many as practicable, the most noticeable being the lack of the wing leading edge kink. This involved a significant amount of research, scratch building and using:
(i) Aires cockpit and wheel bay sets modified for the GR.7.

(ii) Zotz and Airframe decals, the later to correct some errors on the Zotz sheet.

(iii) Eduard Exterior and Interior (some parts) sets.
Modifications and additions to the kit and Aires resin sets:

(A) Fuselage
● Aires AV-8B cockpit set, MFDs corrected so as not to be vertically offset. For the ejection seat, I used the Wolfpack Mk.12 seat (WP32057) with scratch detail. HUD projector lens is represented in solid resin; modified to fit a clear part. Canopy frame lacks detail to rear underside.
● Aires AV-8B bays set. Main gear bay is completely wrong for a GR.7. Nose gear bay solid resin 'netting' removed and replaced with mesh. Airbrake bay is the wrong shape to the front.
● nose side profile adjusted.
● panels port and starboard nose corrected/added for GR.7.
● formation lights made flush with fuselage.
● engine front compressor fan has incorrect number of blades. Scratch built front two.
● gun pod LIDs too long, narrow, wrong shape front and rear with lack of/incorrect detail.
● main intake lips too thin and vary in thickness.
● nozzle shrouds shape and size improved.
● front nozzles shape and size improved.
● recesses for fold-out steps to starboard nose.
● nose cap replaced and ARBS detail added.
● new enlarged Zeus ECM housings.
● new FLIR housing with window.
● cross-dam LID shape (kit part E29) and bay are wrong when gun pod LIDs are fitted.
● fairing shape to front of windscreen improved.
● nose ventral RCV formed to correct shape/size.
● nose antennae (3 No.) replaced.
● lever for nose gear door opening added; set to open.
● extendable step added to starboard.
● nose leg rebuilt and detailed.
● fin scoop intake corrected.
● fin panels re-scribed and raised formation lights made flush.
● 'turbulence' strips added to rudder.
● new tail cone, RCV details, lights etc.
● new RMW and RWR antennae.
● ventral fin too thick at trailing edge.
● tailplanes 'plates' thinned.
● chaff/flare dispenser (E55) replaced.
● panels immediately aft of wing root fairings have too many fasteners
and the trim strips incorrectly extend onto these panels.
● main gear leg, door and wheel hubs corrected.
● nose leg door shape/hinging corrected.
● yaw vane made adjustable so as to position at a random angle.
● Centreline pylon scratch built as kit part is totally inaccurate.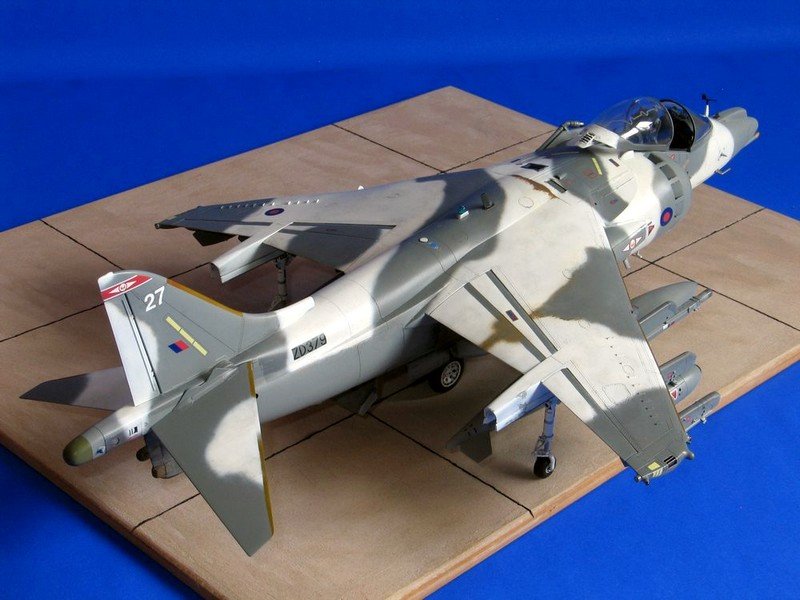 (B) Wings:
● wing APU exhaust and intake grille detailed.
● wings corrected for leading edge kink.
● new 65% LERXs.
● pylons too thin, re-scribed and modified to fit around flap and aileron actuator fairings. Pylon alignment corrected, when viewed in plan.
● access panels to upper wing surfaces corrected in shape and/or positions.
● correct shape VHF aerial, GPS and distilled water cap added, shape of dorsal and ventral strobes.
● circles representing panel screws (?) removed and wing tips re-scribed.
● RCV detail improved.
● lights, antenna and fuel dump pipes to wing tips redone.
● shape to rear of outrigger bays corrected.
● thickness of outrigger gear doors reduced.
● re-scribing of spine area/inboard wings.
● flap/fuselage fairings to inboard undersides.

(C) Miscellaneous
● CBLS-100s scratch built as none available at the time.
● BOL rails " " " " " " " "
● drop tanks front section thin/pointed; tailcone and fins corrected; connection to pylon corrected.
● Acquisition pod scratch built.

My thanks to Spike7451 for detail photos and Chek for the consultations.

Dedicated to the memory of Joan and Jack Wolstenholme.
J. B. Wolstenholme