Brief history of 360 Squadron
The squadron was created from the merger of the personnel of 831 Naval Air Squadron of the Fleet Air Armm (previously operating the Fairey Gannet ECM.6) and 'B' Flight, No. 97 Squadron RAF (flying English Electric Canberras) at RAF Wattonn on 1 April 1966. Initially it was known as Joint Electronic Warfare Trials and Training Force before being given its official designation of No. 360 [RN/RAF] Squadron on 23 September 1966. The squadron flew a number of Canberra types: B.2s, T.4s (for pilot training); a B.6; PR.7s and E.17s. The first Canberra T.17 was delivered just before Christmas 1966 and this type soldiered on until disbandment in 1994.
No. 360 Squadron moved to RAF Cottesmore in April 1969. The official squadron badge was awarded in 1973: the trident represent the Royal Navy involvement, whilst the moth (of the species Melese laodamia) depicts the unique role of the Squadron (this particular moth avoids predatory bats by jamming their prey-finding "radar" system). 360 Squadron moved again in September 1975 to RAF Wyton where it remained until being disbanded in October 1994, its work being taken over by Flight Refuelling Ltd.
In 1991 360 Squadron achieved 25 years of service, and was presented with a Squadron Standard. No. 360 Squadron had many unique aspects: its role, its number had not been previously issued, and it is the only squadron to have been formed, awarded a Standard, and disbanded during Queen Elizabeth II's reign.
Canberra T17.
Between December 1966 and October 1994 the English Electric Canberra T.17 formed part of the 360 Squadron. In 1966 it operated from RAF base at Watton UK, in 1969 it flew from Cottesmore and from September 1974 until the Squadron disbandment in 1994 the T.17 operated from RAF Wyton. During all of this time the T.17 operated from other bases overseas as Akrotiri in Cyprus and Luqa, Malta. It is during its frequent visits and stop over in Malta that the type drew my interest and made me make a model of it.
The Canberra T.17 was a specialised Electronic Counter Measures/Electronic Warfare variant converted from the B.2 bomber. 22 of these aircraft were produced specifically for a joint RAF/RN unit, 360 Squadron. The bomb bay and the newly designed nose housed the additional ECM/ECW equipment. On many occasions associated with its operational life in Electronic warfare and counter measure missions the Canberra T.17 visited Luqa airfield very often. Luqa was then an RAF station housing Canberra PR9 and PR7 of 13 and 39 Squadrons as well as Nimrods of 203 Squadron. It was also a staging post for many transport types including Hastings, Valettas, Beverleys, Argosies, Hercules as well as US types as C-54, C-131, C-123, C-124,C-118, C-119, C-130, T-39, Traders and other carrier ship board aircraft of all types.

The T-17 featured prominently in RAF years. The Canberras, of all types were a pleasant daily distraction as they flew around the local airspace going about their business at the local airfield. The T17 always caught the eye more than most with its distinctive nose and its lumps and bumps on the airframe. WK111 the subject of this review was at the time a common visitor and sported a distinctive tail insignia with a lightning bolt passing through it. She was a mount belonging to 360 Squadron a joint electronic counter measures training unit which no doubt had a very interesting war role to play.

The kit: Canberra T.17
Scale 1/72
Cost 7s 6d
Type: originally PR3 and was modified to T.17.
Decal options: one RAF PR7 WH773
The relatively small parts count reflects the simple design of the airframe, but does compromise detail since this was very basic with oversize rivet detail. It certainly does speed construction though. This was indeed one of my earliest conversions and the only way to build the type was to convert an old Frog Canberra PR7 model and build the nose out of yellow pine. This was then some years before the issue of Airfix Canberra B6 or Aeroclub T.17 conversion issue. The completed kit may show signs of ageing but the only recent difference that I have made over the years was replacing the squadron tail fin crest from the original 360 numbers with a lightning across it to a more recent crest that was issued by Modeldecal some years later.
The kit itself come in silver styrene of rather thick sections, having cast on crew figure as well as completely closed undercarriage bays, thick section bubble canopy and lacked many surface details and had a few raised panel lines. The model first had the nose cut and some 2 mm in length shortened behind the cockpit since the T.17s were modified B.6 and the PR.7 was little longer due to side cameras it carried.

The following are the extra work made to build a T.17 WK111 'B' of 360 Squadron RAF based at Wyton UK in late 60s.era
1. Using scale plans, the nose was cut as shown in drawing and another nose made of yellow pine was fitted instead. This was made out of five separate pieces.

2. Wheel wells were cut open and detail to interior added in form of spars made from strips of plastic card. Doors were made from plastic card shaped accordingly to correspond to wheel well doors shape.

3. Cockpit was opened and two seats with crew added. Also added instrument panel and moulded a new clear canopy from acetate.

4. Built up an area under the forward fuselage, which housed electronic gear inside.

5. Added various sensors and intakes shaped from stretch sprue.

6. Used Modeldecal transfers for 360-squadron crest on the tail fin.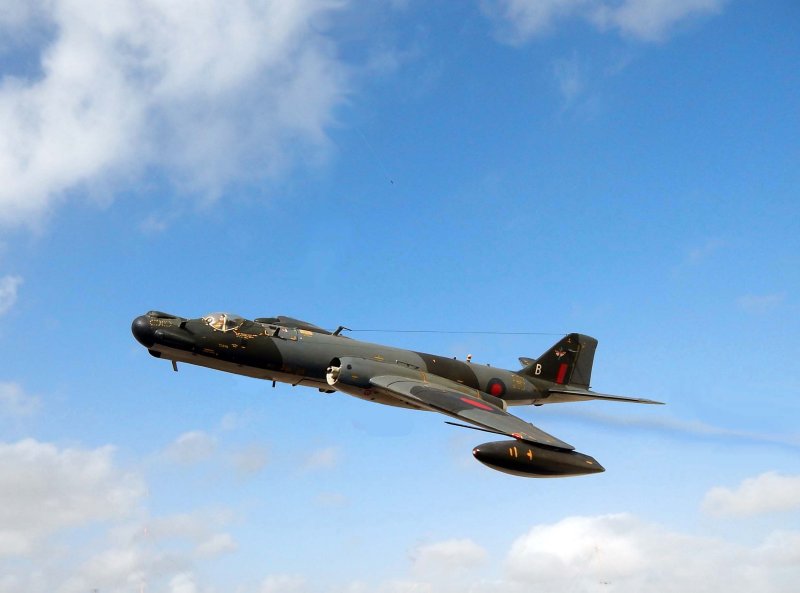 Color and Markings.
Model was painted dark sea grey and NATO green upper surfaces and light aircraft gray undersides. All interior was black. Crew figures painted as they were at the time in service mainly RAF blue grey with yellow Mae West. All serial numbers and tail squadron insignia are Modeldecal as also the RAF roundels.

Conclusion
The styrene was hard to work with, but it made into a sturdy kit when completed knowing it was a basic Frog original. I have since added an E.15, a PR9 and a T4 all of which were from 'Those were the days' era that brings many happy memories of military type aircraft spotting in Malta.
Carmel J. Attard