The Brazilian Aerospace conglomerate EMBRAER develops their first regional jet, the ERJ145 in the late 1990s. The actual Embraer 170/175 model series is larger and could carry up to 84 passengers in an spacious cabin with four-seat-rows. This together with LCD cockpit display, fly-by-wire, fuel conserving winglets and noise reducing nozzles made the airplane into a world-wide selling record.

The 170/175 was followed by the 190/195 and the luxury business version "Lineage 1000".

Fuji Dream Airlines, a 2008 founded regional Japanese carrier fly 10 Embraer 170/175, each in a – typical Japanese "comic style"- colour.

I had received this kit from a friend who got it directly from Japan. I was very amazed, because I had not heard of any airliner from Tamiya and of course not in this unusual 1:100 scale. And since the Embraer 175 was first presented for the European market at the International Toy Fair in Nuremberg in February 2017, I am sure, I was perhaps the first private model builder in Germany to build this great model.

Tamiya brings its first airliner in a superb quality, with much well thought-out detail, such as stabilize rests in the fuselage, separate rims, colored decals for the cockpit struts (!) and even three metal nuts for the nose weight.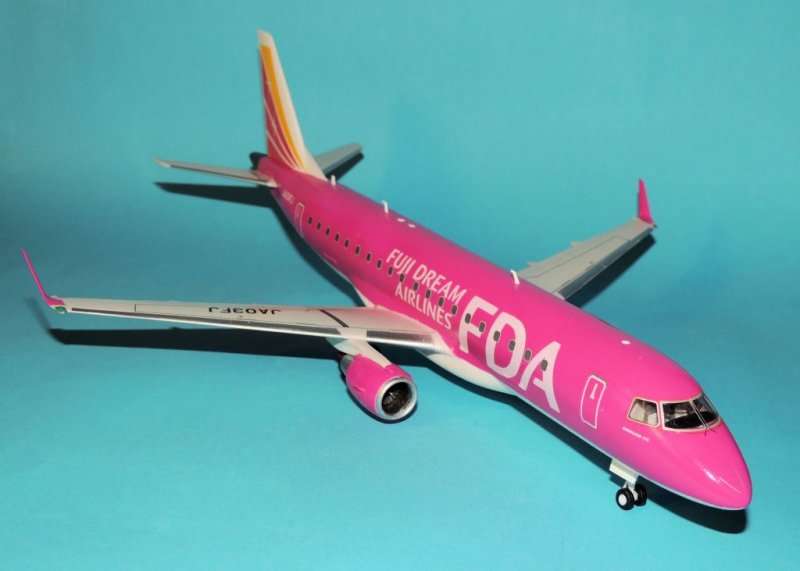 The decal sheet was a color explosion. Ten(!) different schemes for each of the colorful originals from Fuji Dream Airlines. So much rest for the spare Box!!

I choose the stylish pink variant of the JA03FJ. To see all the colors I added two pictures from the internet (by hobbysearch.com) and a picture from the box. The "beautiful" pink comes from Hobby line No.11 Acrylic paint. No weathering, I could not age this beauty…

A nice an easy build. Enjoy the photos.
Gerd Wilcken