The History
Since it showed the first weakness in flight behavior in the first MiG-15, 1949, the MiG-15UTI (ST) was designed and built as a two-seat trainer. Thus, the future pilots should be trained to minimize possible errors. The larger cockpit only 2/3 of the hunter could be carried on fuel. The successful pilot trainer was in more than 20 countries, primarily Eastern Bloc countries, delivered and flew in third world countries for a long time. With a UTI, the first cosmonaut Yuri Gagarin was killed in a crash on 27 March 1968.

The model
My model represents a UTI and in 1960 delivered to the GDR and first aviator training squadron 2 (FAG 2), later fighter training squadron 11 (JAG-11) was used in Bautzen. After a repair damage they was written in 1974, but spent in the aircraft plants Dresden for repair, where she worked as a weather aviator to 1990 levels.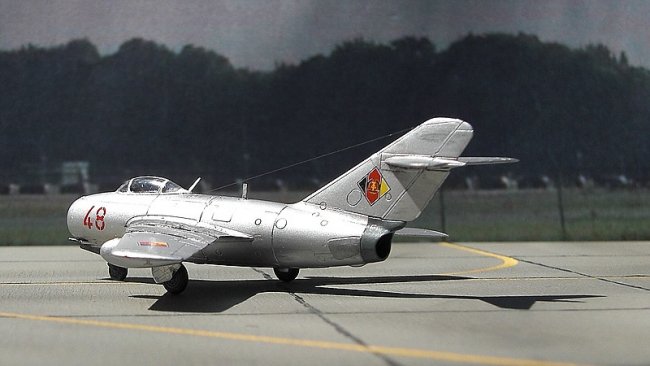 It comes from the attack and is not as rich in detail compared to Eduard. A cockpit does not exist and was built by myself. Adjustment difficulties were also held with the pulpit because it was incompatible with the hull shape in harmony. It helped grind, grind, grind. The rest was quite well so far and does not necessarily behind the hide from Eduard. Some have been used by the Eduard's MiG, which were left over. was supplemented trainer with cover flaps and a director of the company. Brengun.

It was painted with green of Gunze and brown and light blue of Model Masters. The cockpit was dark gray from Vallejo painted, while the chassis with light blue was provided by Gunze. The decals are from Toms Model. They can be processed very well, but tend to tear quickly.

Images of the construction can be found here.
Björn Leichsenring