Sometimes you find that one kit that you fall in love with. I picked up a 1/72 Italeri C-27 at a local shop for $20, second-hand. Cool! I had a plan before I left the shop, and set to work. This was going to be awesome!

The RCAF is currently stalled in its plan to replace the CC-115 Buffalo SAR aircraft, which work amazingly well but are getting near-impossible to maintain. Searching for parts has required crews to strip relics in Mexico, and refurbish or scratch-build a number of components. Failed contenders for the replacement have threatened legal action over changing requirements, which seem to point to the C-27J Spartan as the only logical choice. Thing is, the Spartan is just that good. It shares technology and engines with our new J-Hercs, potentially saving us $$$ due to commonality. Performance is proven, and no serious modifications will be needed. But enough politics.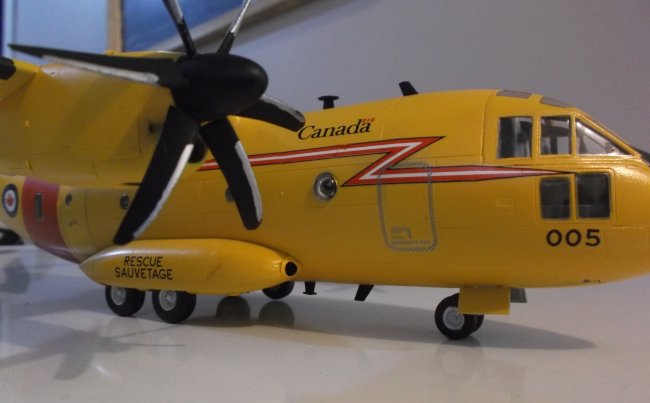 As for the model, I only did one mod, replacing 2 windows with bubbles for the Spotters. I was going to add a FLIR but it's packed somewhere in storage, as I'm trying to sell my place. I used Leading Edge decals from various sheets to good effect, plus some of the stock decals from the kit. Tamiya Yellow was mixed with Orange to get the right tint. After painting I did a couple coats of Future- whatever the new name is- to seal it, and good to go! 3 days of fun!
Harv