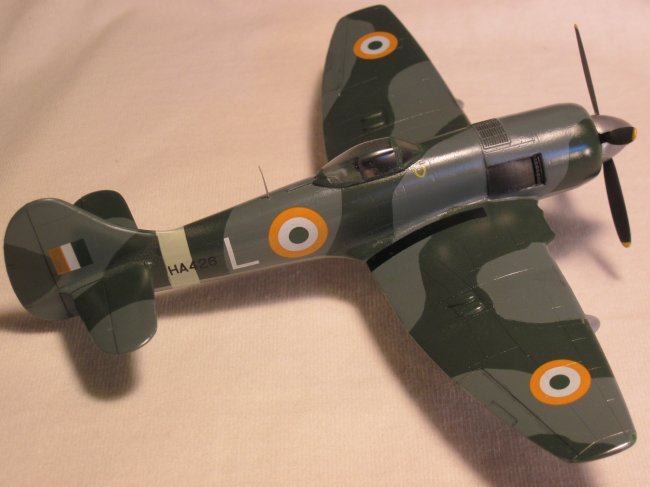 In honor of India's Independence Day are two aircraft of the newly independent air force. Presented are two Tempest II fighter-bombers that served the new nation in its first war to define India's borders and to develop doctrine and skills to serve the nation in the future. "White L" portrays a fighter of 7 Squadron during the 1947 war with Pakistan for the provinces of Jammu and Kashmir (an issue that remains unresolved 67 years later). "Black E" belongs to an operational training unit in 1952. These aircraft were then being supplanted in front line service by the first generation of Vampire jets and were used as advanced trainers and to develop the doctrines required for air warfare in the south Asian setting.

The 1:72d scale Special Hobby Tempest II kit is an exquisitely detailed kit with very good fit within the limitations of limited run production. While the parts fitted well, some careful flash removal is required--test fit twice! The resin details are excellent but the excessive pour blocks required far too much time to remove and trim to fit. In order to get any sub assemblies to fit, the underside of the cockpit and the tops of the wheel wells must be reduced to paper thinness, a time consuming process prone to error. As a consequence, my other two IAF Tempests will await India's Republic Day for their ARC debut.

As the cockpit is black, one needn't devote too much time to the side wall details and may dispense with the PE details as they won't be visible. Concentrate your effort on the seat and gun sight. For the 1952 scheme, you may leave the sight off altogether. The fin flash decal lacks the white undercoat, allowing the camouflage colors to show through on the 1947 option. As with most quality limited-run kits, a little patience is rewarded by a striking model. In the 'self-improvement' arena, I will be learning better model photography before Republic Day.
I included this model of "Black E" to demonstrate how two modelers, using the same references, can reasonably come to different conclusions using the same references. Murli Rajan's excellent "Black E" (also posted here today....1/72 Special Hobby Hawker Tempest Mk.II by Murli Rajan) is shown with more restraint on the black trim, where in the absence of enough photo documentation of any single airframe, I chose to follow the example of other Tempests that were fully trimmed with black. Either approach can be defended from the photos we used, my decision came down to the attractiveness of the complete gloss black trim on the natural metal finish. The finish is lightly buffed Floquil aluminum.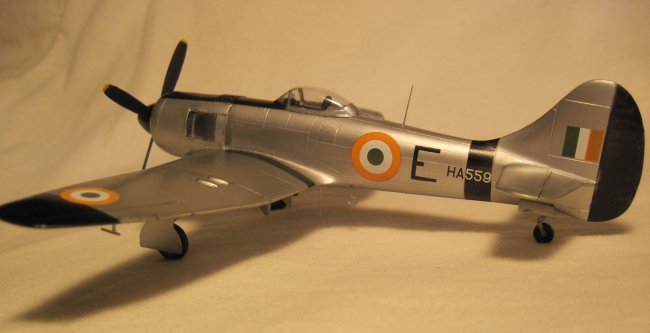 Both models used the kit supplied decals. As note above, the fin flashes require a white undercoat. The decals are very thin and adhere very rapidly, requiring longer soaking and very careful handling if you are to adjust their placement.
Respectfully submitted,
Kevin R. Ingraham