1/72 Academy Zero
| | |
| --- | --- |
| | Gallery Article by Jahja Juwana |
This is my Academy 1/72 ZERO, I built it OOTB, construction went smoothly (Academy's getting better ), the chipped paint effect was achieved using this technique:

1. First all of the completed airframe was sprayed using Tamiya's spray can Silver Leaf, don't forget to mask the wheel well, canopy and all the parts you don't want to paint.

2. After 2 days drying time, apply the upper (green) and lower (grey) fuselage color, I used Tamiya's acrylic paint (IJN Green and IJN Grey) oh, almost forgot I also paint the roundels and wing walk line using Tamiya's Acrylic Flat Red.

3. After 1 hour drying time, the fun part begun, using toothpicks as a scraper I scratch the paint lightly until the silver shown up, one word on this part, take it easy, it's very easy to get carried away (Like I did...I think).

4. I've tried this method using enamel paint, but find it harder to chip, maybe because of the oil contained in the paint, the acrylic I used is very dry and chipped easily, realistically.
I haven't weathered this aircraft since I got another project goin' on, but pastel chalk will further enchance the model. My wife said that this is the ugliest (in term of appearance) plane I had in my collection because of all the paint chips, but for me it's good to know another technique (Now I know how to finish the Japs aircraft). The color I used for the Aotake blue is the silver paint sprayed by a mixture of clear green and clear blue.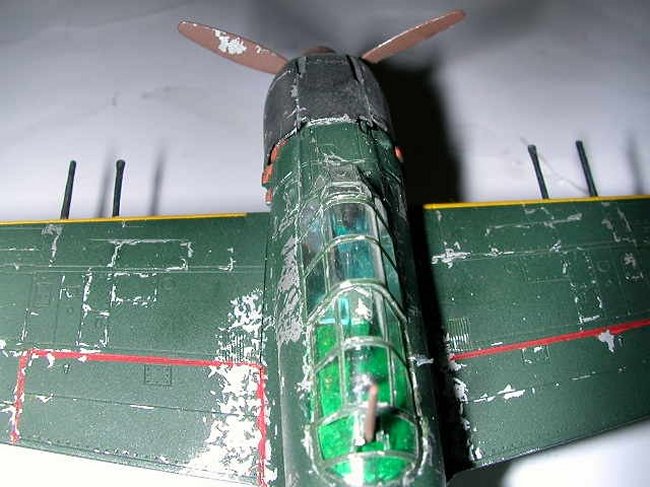 Hope you enjoy the model.
Start chipping now !!
Jahja Juwana