1/200 Hasegawa Boeing 737
| | |
| --- | --- |
| | Gallery Article by Ted Johnston |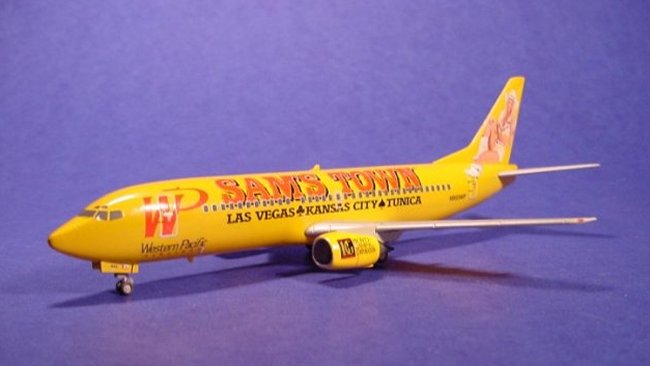 West Pac Sam's Town 1/200th Scale Boeing 737
The pictures were taken by Steve Bamford with his incredible little camera.
There are alot of very wild colour schemes showing up on Airliners these days and I was drawn to the various West Pac sheets put out by Skyline Decals. Wil Hendriks picked this sheet up for me in England when he was at the IPMS Nationals in the UK last year.
I used the Hasegawa 737-400 kit which is for all intense purposes a snap together kit, there are no windows molded into the fuselage which I don't have a problem with. The fit was good and in fact the engines are a perfect fit on the wings, so good that I had to scrape the paint off to put them in place (I was counting on snapping them into place). The instructions call for a 737-300 but all I could get my hands on was a -400 which is just a bit longer.
The decals are Skyline's West Pac Sam's Town 1 Sheet. I was very happy with the decals but they are very thick and some of the smaller ones such as the lights for the lead edge of the wings refused to conform to the wing shape. There are places where the decals are four deep with all the various colour separations and data placement, this caused me no problems.
I used Model Master Enamel Paint custom mixed to FS 13637 Yellow Ochre, this was done by Jeff Dick who is an expert at mixing paint.
I don't track my time when I build a kit but I put in a fair chunk of time on this one mostly devoted to painting the wings.....a couple times until I got a colour I liked! Overall I am very happy with the results.
Ted Johnston