This large decal sheet from AOA Decals provides the option for up to 10 South Vietnam Air Force (VNAF) AD-6/A-1H Skyraider from seven squadrons during the Vietnam War.
This sheet includes schemes for 1st, 514th, 518th, 520th, 522nd (83rd SOG), 524th, and 530th Fighter Squadrons. The markings provided span from the early 1960s to the early 1970s and also include two Skyraiders that were retrofitted with the Yankee extraction system.
Unlike the vast majority of AOA releases, only the minimal stenciling/common markings are provided. However, several variations and specific markings are also included, as well as propeller markings.
The marking options include 5 aircraft in the light gray scheme and 5 in the SEA and as well as green/brown camo scheme. What I particularly enjoyed was the Tiger markings and artwork on some on the fuselage bands as well as the noseart.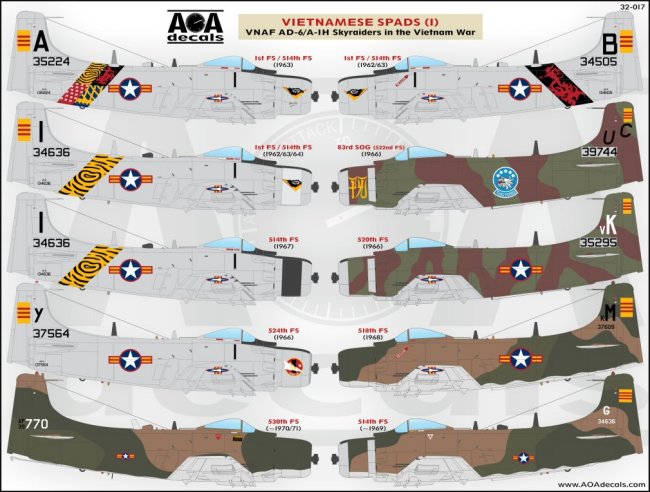 The South Vietnamese aircraft have a special place in modelers hearts and it is very good to see this colorful selection of Spads in 1/32 scale.
Although the Trumpeter kit was used as a basis for these decals, the large fuselage bands were designed to have excess length on the bottom to allow their usage on the Zoukei-Mura Skyraider kits with adjustment as required.
You can buy this decal sheet directly from AOA Decals.
Steve Bamford