This resin set from Eduard is part of the Brassin series and is available directly from Eduard Model Accessories. This set includes four AGM-45 Shrike in 1/48 scale.
The AGM-45 Shrike Air-to-surface anti-radiation missile was an American made Air-to-surface anti-radiation missile used from 1965 to 1992. It was used in the Vietnam War, Yom Kippur War, Falklands War, Operation El Dorado Canyon and Gulf War. It was used by the US military in Vietnam on the A-4, F-105F and G Thunderchief Wild Weasel SEAD aircraft, and later the F-4 Phantom II. During the Falklands it was fitted to Vulcan bombers and it was also used by F-4G in the Gulf War.
This resin set includes:
four complete AGM-45 Shrike missiles

front winglets are separate pieces

photo etched set contains rings for rear of missiles

decals for stencils and stripes
There are 2 pages of instruction in the usual line drawing format that Eduard is famous for and which are so easy to follow. The instructions also include painting instructions.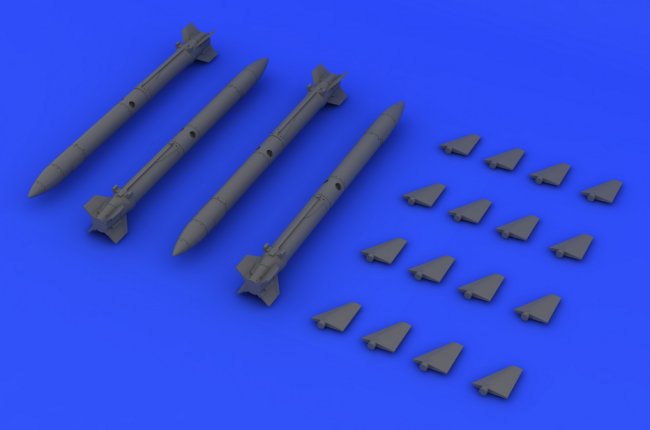 These missiles are wonderfully detailed and loaded with fine stencils. These will give you another highly detail loadout option.
You can buy this detail set and thousands of other items directly from Eduard Model Accessories.
Images in this article are by Eduard Model Accessories.
Steve Bamford