1/72 CF-188 Hornet - 'Battle of Britain' Model Kit
Product # 035 72 for CAD$38.00
Product Article by Canuck Model Products on Jan 7 2015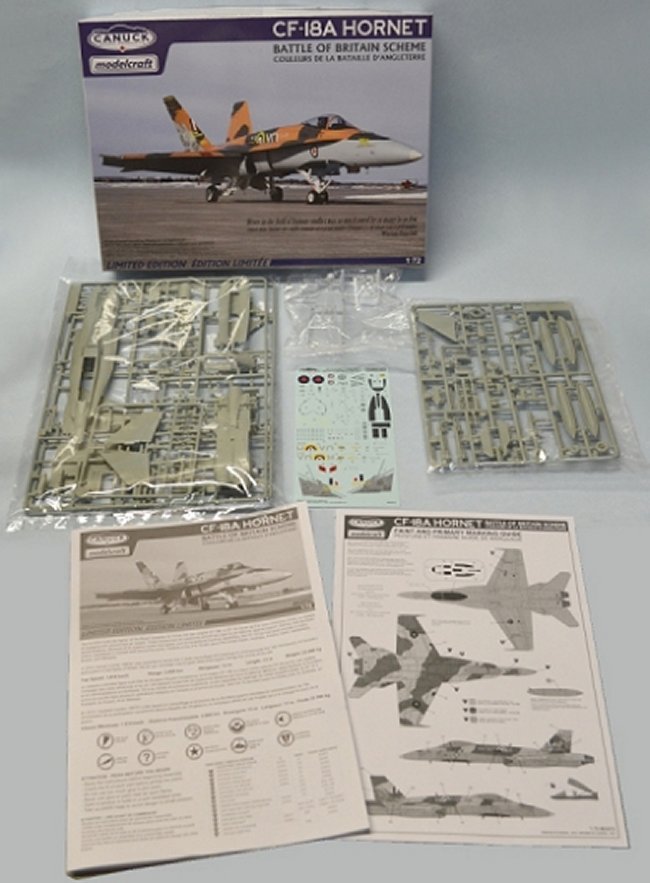 Never in the field of human conflict
was so much owed by so many
to so few.
- Winston Churchill
This model kit from Canuck Model Products includes markings and stencils for a CF-188A Hornet in the 'Battle of Britain' Scheme.
The tactical fighter backbone of the RCAF, the twin engine CF-18A 'Hornet' (officially known as the CF-188) has served Canada with distinction in hot-spot areas around the world. In 2015, Hornet 188761 was repainted in World War 2 style camouflage and markings to commemorate the 75th Anniversary of Canada's participation in the Battle of Britain, the air war campaign over English skies that helped change the course of the war.
Photo's of finished model with pre-production decals. Final product may differ slightly from photos.
This very limited edition 1:72 scale kit includes highly detailed injection moulded plastic parts with engraved panel lines and CF-18 style vertical fin, as well as high quality water slide decals that capture the spirit of this special aircraft in fine detail. Featuring tail murals of Winston Churchill and F/L G.R. McGregor, as well as an eye catching camouflage pattern, this Hornet will be an excellent addition to any modellers collection.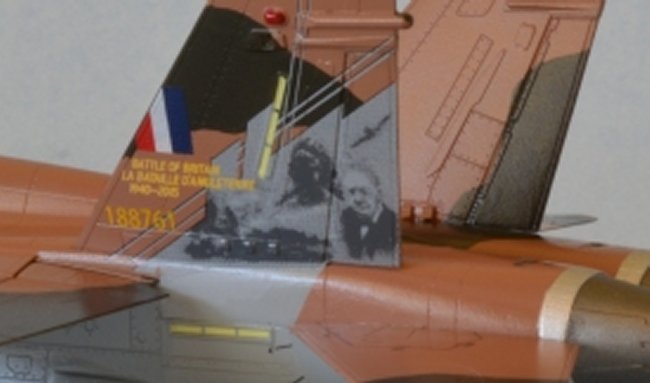 Kit Decals Proudly Designed & Printed in Canada by Canuck Model Products.

Source artwork for this, and other schemes, is reproduced with permission of the DND/CAF.

Special thank you to Mr. Richard Girouard, Dan McWilliams, and members of CFB Bagotville for their gracious help.

Note: Overseas (UK, France, Germany, etc...) orders of this product are shipped via Surface Mail. Customers outside of North America should allow for between 4 and 8 weeks for delivery. Please see the About Page for shipping details.
You can buy this model kit directly from Canuck Model Products.
Canuck Model Products