This new decal sheet from Balkan Models includes markings for 3 different 1/72 P-39 and P-400s.
The Bell P-39 Airacobra was one of the principal American fighter aircraft in service when the United States entered World War II. Designed by Bell Aircraft, it had an innovative layout, with the engine installed in the center fuselage, behind the pilot, and driving a tractor propeller via a long shaft. It was also the first fighter fitted with a tricycle undercarriage. Although its mid-engine placement was innovative, the P-39 design was handicapped by the absence of an efficient turbo-supercharger, limiting it to low-altitude work. The P-39 was used with great success by the Soviet Air Force, which scored the highest number of individual kills attributed to any U.S. fighter type. Other important users were the Free French and co-belligerent Italian air forces. (Wikipedia)
The 3 aircraft include:
P-39Q-25-BE, No.4 (44-32664) GC II/9 "Auvergne", Armee de l'Air

P-400 (Airacobra Mk.I), No. AH574, RNAVY (deck landings trials)

P-400 (Airacobra Mk.I), No. AH621, RAF, 1941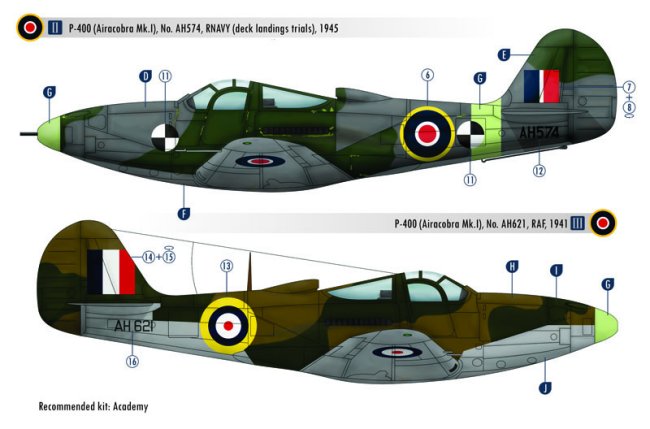 You can buy this decal sheet directly from Balkan Models.
Steve Bamford