This conversion set from 3D-KITS.co.uk injected plastic parts, high quality decals and full colour instructions to convert a Spitfire Mk I or II kit to a long range Mk II. 3D-KITS.co.uk specializes mostly in WW2 British aircraft accessories.
To increase the Spitfire's range about 100 Mk IIs were adapted in 1941 to carry a non detachable fuel tank under the port wing. These served with 66, 152 and 188 Squadrons. The tank gave a useful increase in range and allowed Spitfires to escort bombers on daylight raids to the continent, but speed and manoeuvrability suffered.

This conversion set includes:
One sprue of long-run injected plastic parts;

High quality decals for two Spitfires;

Instructions;

Sufficient to convert one kit.
Featuring long-run injection moulded parts with fine recessed panel lines, our conversion set is designed for the new Airfix Spitfire (A02010), but with minor adaption can be used on other Spitfire kits as well. The set includes high quality decals printed by Fantasy Printshop for two aircraft (66 & 152 Squadrons). Roundels are not included.

Above is further information on the colour schemes and aircraft in the kit.

Note: The 152 Squadron option requires a Mk II Rotol Propeller. Our conversion set 72-C001B contains one, if required.
These are high quality waterslide decals for the 1/48 Spitfire Mk IIs. Includes all four individual aircraft markings, with national markings for any one aircraft. The whites of the roundels are double printed to prevent paint colours showing through.
FEATURES:
Injection moulded in polystyrene from hardened steel moulds.

Fine, crisp detail.

Small gates, making cutting off easy.

Decals printed by Fantasy Printshop with full colour painting and placement instructions for two aircraft:

Spitfire Mk IIa LR, 152 Sqn, August 1941

Spitfire Mk IIa LR, 66 Sqn, July 1941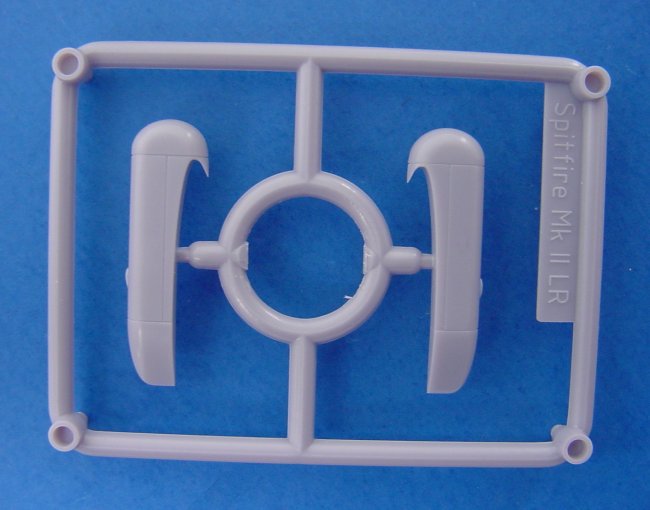 3D-KITS.co.uk has an ever growing product line that continues to make me grin with delight. They are filling a very valuable niche and I am quite impressed with this conversion set. The plastic parts are very well molded and the decals provide 2 attractive looking markings options.....including one aircraft that was funded by the NAFFI canteen workers and was called "Counter Attack"...which is an amusing play on words. I love the camo schemes on the Spitfire from this time period during WW2.
You can purchase this conversion set and other decals sheets and detail items directly from 3D-KITS.co.uk
I would like to thank 3D-KITS.co.uk for providing me with this product sample.
Steve Bamford