Hasegawa makes many aircraft model kits, but one sad surprise when you open their jet kits is the lack of ordnance. Hasegawa instead prefers to sell the ordnance separately in 4 ordnance kits. A 4th one of these was recently released, but this review will focus on #3 in the series. As you can see by the picture above of the boxart....there is plenty of "stores" in this one box.
This set mainly covers missiles and gun pods, included are four AIM-9B sidewinder, four AIM-9D Sidewinder, four AIM-9E Sidewinder, four AIM-9J sidewinder, four AIM-9L sidewinder, four AIM-4D Falcon, four AIM-4G Falcon, four AIM-7F sparrow, two AGM-45 Shrike, six AGM-65 Maverick, two AGM-78 Standard, two AGM-88 HARM, two HIPEG 20mm Gun Pod, two SUU-23A 20mm Gun Pod, two GPU-5/A 30mm gun Pod (GEPOD 30), two AREO 5-1A pylon, two AERO 7A-1 pylon, two LAU-88A pylon and a variety of sway braces for these pylons.
Also included is a quite complete decal sheet....although the clarity of the text is not very readable due to poor quality printing, despite the fact the text isn't all that small. The instructions include painting instructions using Gunze Sangyo Aqueous Hobby Color line of paints. Considering there are only 6 colours mentioned in the paint guide in the instructions and the 3 most used are white, black and steel, I doubt anyone will have any problems using their favourite brand of paints.
The casting of the grey plastic is typical Hasegawa high quality. Beautiful panel lines although some are recessed and some are raised and only a microscopic amount of flash.
All in all a good set to have when you want to add these stores to your latest kit....the only disappointment in the set was the slightly less than perfect quality of the decals, but the decals are typical Hasegawa kit decal quality.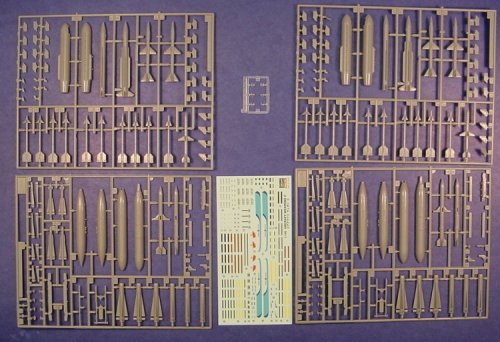 The complete kit.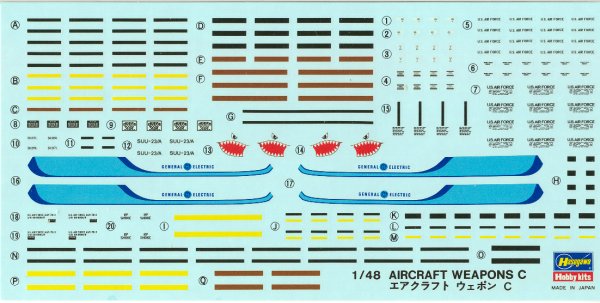 Decals are clearer than this.....this is a low resolution scan.
| | |
| --- | --- |
| | |
| Two of these sprues are included | Two of these sprues are included |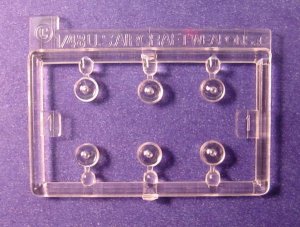 Seeker lenses for the six AGM-65 Maverick missiles
Review sample kindly supplied by North American Hobbies.