This is the injection mold kit number 14422 by Valom who offer a wide range of WWI kits in the 1:144th scale. This kit includes four airplanes in total. Two are the Bristol F2B variant from the Royal Flying Corps in colors from 1917 and 1918. The other two are Rumpler CIV from Die Fliegertruppe (the Imperial German Flying Corps) who flew with these markings in 1917.
The molds are nicely formed with no surface blemishes or pitting but having nicely formed details that would be visible in this scale. The sprue attachments are minimal and positioned so that they could be easily trimmed and then removed by sanding. You might notice in the following photos however, that the fuselage does not come with alignment pins or tabs. I expect a modeler will choose a cement with a bit longer setting time or add their own pins to ensure secure alignment.
The included photo etch sets which cover the gear struts, wing spars, and machine gun. They are a bit heavier than you might expect when compared to larger sets, but this is most likely purposeful for scale and construction.

The instructions are simple, exploded view formatting with clear part notations and location markers, expected on such a simple kit. Unfortunately, I found the painting instructions to be confusing. The kits share five of the listed 24 colors, so youíll need to blend or have a lot of color varieties on-hand. In addition, the lettering sequence is repeated. ďAĒ in one model is FS34079 Dark Green on the F2, and FS24260 Light Green on the CIV. On the CIV ďCĒ is FS17142 Light Mauve and FS30266 Natural Wood on the F2. Why Valom didnít just use one of the other remaining letters Iíll never know.
The decal sheet does have a lot of flash around the printed markings, 1mm. This may make blending them in a challenge especially as the roundels from the RFC with the flash are wider than the wings they are meant to cover.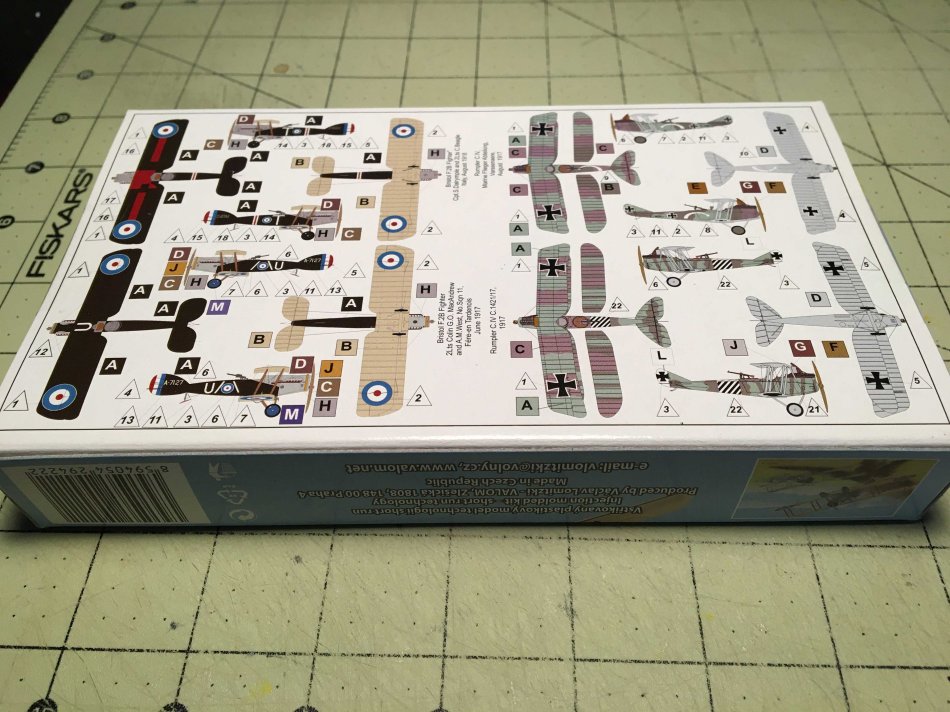 I am excited to assemble these kits as an unusual addition to my fleet of 1:144th scale builds. Seeing these alongside an F-15 which has a wingspan only slightly larger but a length thatís nearly 4 times longer will be impressive.
Scot Reinmann
Click on images below to see larger images