This pre-painted and unpainted photo etch detail set from Eduard is part of the Zoom series of photo etch sets and is available directly from Eduard Model Accessories. This is mostly a cockpit detail set designed for the 1/48 HK Models B-17G. The parts include some pre-painted parts for the placards for the crew as well as mounts for the bombs if you choose to mount bombs. You also get unpainted parts for ribbing for bomb bay doors, bomb rack parts etc.
There are 4 pages of instruction in the usual line drawing format that Eduard is famous for and which are so easy to follow. You will be required to cut away detail on the kit parts to fit these photo etched parts, but this is indicated on the instruction sheets.
You will be required to fold the photoetch in this set, but if you have one of the Hold & Fold photo etch benders from The Small Shop, then this will be an easy process. They have a variety of benders for sharp corners as well as rounded corners and in many different sizes.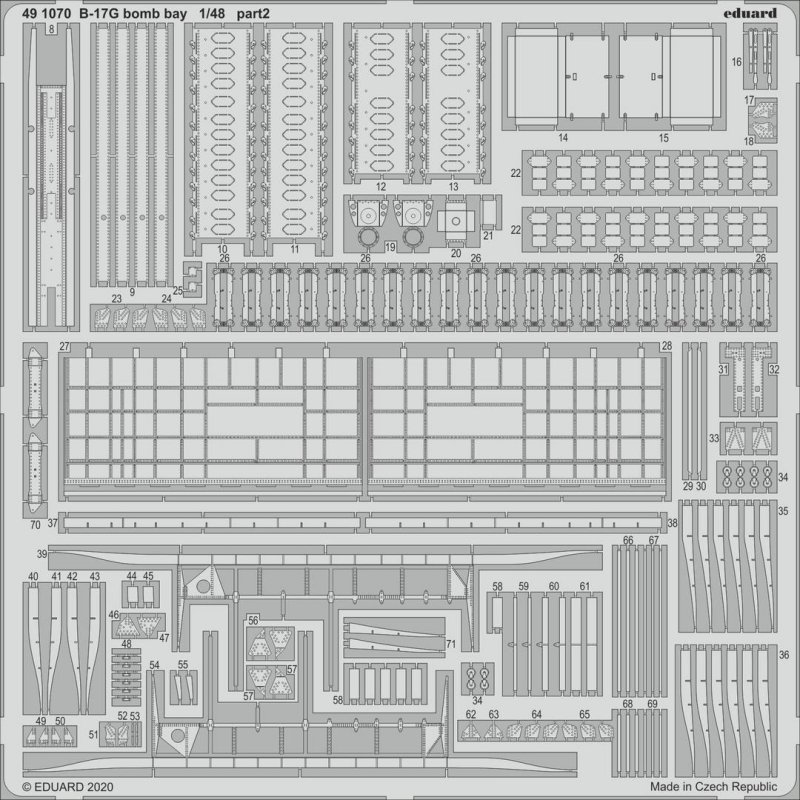 The bomb bay is one of the key focal points on the B-17 and although the bomb bay is on the underside, many modellers do want to properly detail the bomb bay and this set will help you do that very well. I do think the photo etch ribbing on the interior of the open bomb bay doors will be easy to see on the finished model.
You can buy this pre-painted photo etch detail set and thousands of other items directly from Eduard Model Accessories.
Steve Bamford