This resin and photo etch set from Eduard is part of the Brassin series and is available directly from Eduard Model Accessories. This set includes three MER (Multiple Ejector Racks) in 1/32 scale.
The MER (Multiple Ejection Rack) and TER (Triple Ejection Rack) were developed to permit aircraft to increase the number of weapons they could carry. These MERs were used from the mid 1960's onward on a variety of aircraft from the A-6 up to and including the B-52. Each rack can hold 6 bombs, so using these will permit you to serious increase the loadout on your strike aircraft.
This resin set includes:
75 resin parts
4 photo etch parts
decals for stencils and markings
There are 4 pages of instruction in the usual line drawing format that Eduard is famous for and which are so easy to follow. The instructions also include painting instructions.
You will be required to fold the photoetch in this set, but if you have one of the Hold & Fold photo etch benders from The Small Shop, then this will be an easy process. They have a variety of benders for sharp corners as well as rounded corners and in many different sizes.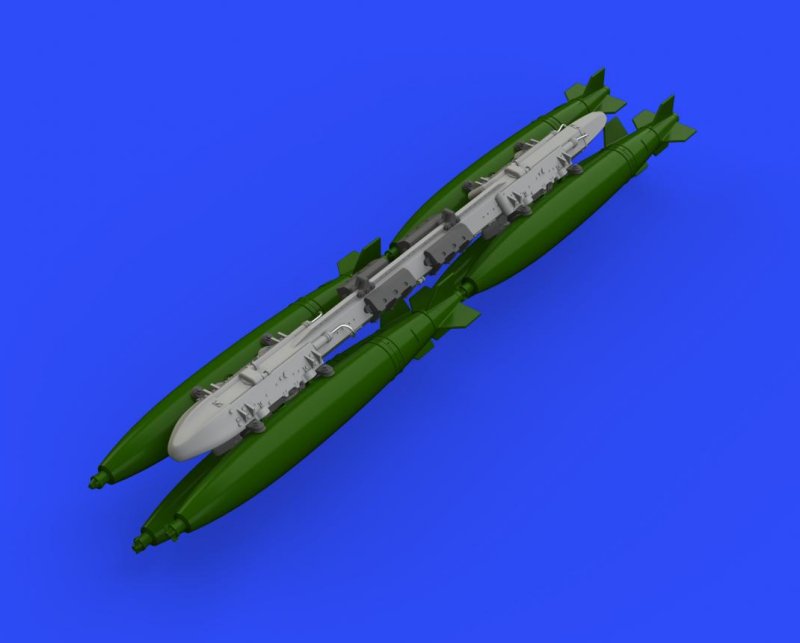 The number of parts and level of detail makes each of the MER a model in itself. As you can see in the photos this set has layers upon layers of small resin parts to assemble to hold the bombs. You will also be adding tiny pieces of wire which you will need to bend correctly to get the correct look and fit. With patience and careful attention to the instructions you will be richly rewarded with MER's that will better fill out your model and give it quite the impressive weapons load.
You can buy this detail set and thousands of other items directly from Eduard Model Accessories.
Images in this article are by Eduard Model Accessories.
Steve Bamford