Hi everybody, I'm from Germany and this is my first submission to ARC. Steve thank you, a very well done page!!

This is my F-111B in markings to show the Phoenix test bird 151972 at Culver City.

The Kit was weathered in the Cockpit entry area and equipment bays of L/H & R/H front fuselage as well as on the fwd. and rear Engine Bay Doors on lower rear fuselage.
Parts of the Hasegawa Rear Fuselage were cut off. New Revell parts are shown. I decided to use the Revell Main Tires to reflected the smaller Navy Tires which are only 42 x 13. Airforce Tires are 47 x 18.

Click on images below to see larger images

Dry fit of the wings without flap/slat and first look of "things under wings". The two AIM-54 are from Hasegawa's first F-14A release, in the hope that these are AIM 54A's.

The booty of the hunt :-), Microscale 72-132. The sheet was in very good condition.

The Hasegawa Front Fuselage was cut off, Revell F-111B Radome and parts of a early "AWG-9" System. At this Step I decided to open the Radome.

The Revell part fit very well. A little bit sanding was needed.
The following story will tell you, how I've tried to build a Navy F-111B.
In the late seventies I spent a two week vacation on the Baltic Sea . To cover a cloudy day I travelled with my wife to Lübeck.
There I found a well sorted book store and while I was looking for military aviation books I found Bill Gunston's "Modern Fighting Aircraft F-111". After buying it I recognized the first coloured picture of the Navy's F-111B in my life.
As I'm a modeller, an idea was born which ought to be unrealizable.
But I was a kind of infected by this idea and bought the old 1/72 Revell Kit "F-111 Tactical Fighter TFX" in my local Hobby Shop. The kit enables you to build a Navy F-111B.
But, I didn't start it, due to the fact that the decals reflected an in service aircraft (VF-124 & VF-84) and with information out of the book I got to know that they never existed in that way. Furthermore the kit doesn't contain pylons and weapons. The burner cans from the TF-30 Engine seem to be incorrect as well as the intakes and Crew capsule.
I stowed away the kit and the idea to the attic because I was unsatisfied.
Years later, I visited the Aviation Megastore in Amsterdam with my son and a friend of mine. An excellent Shop with a lot of great stuff! There it was! I couldn't believe my own eyes!!! In front of me I found Tommy Thomason's book "Naval fighters No. Forty One – Grumman Navy F-111B Swing Wing".
I bought it … the resurrection. You should be asking why??
The idea was back again with my new famous book with a lot of references and an old Revell Kit. All I need was a Hasegawa F-111C because of the long wing and the Microscale Decal sheet 72-132. That's all.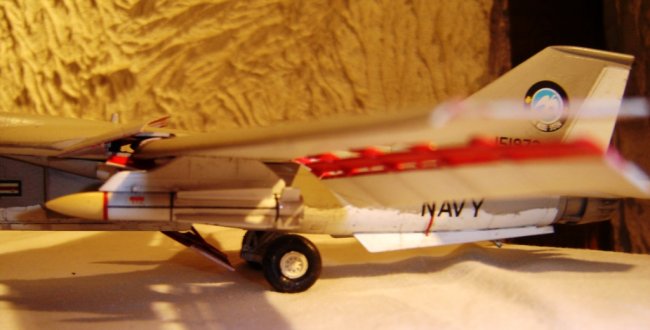 View from L/H wing tip, to show the flap/slat in full down position. The AIM-54 Pylons are from Italerie's F-18A. They were slightly modified.
| | |
| --- | --- |
| Bottom view | Click on images below to see larger images |
| Left Hasegawa lower rear fuselage, right Revell. | |
To get the F-111C was fairly simple. I bought it as blemished item in a warehouse for approx. 12€, the only reason was that the box was damaged.
Now, to have both kits I could compare the two kits and I found out that the Revell Kit was not so bad as I thought years ago.
In some pics you can see that I've used Revell parts.
But to get the decal sheet was a nightmare. To cut a long story short, from Flight Dec's over Great Model Web Store to Hannants and all the others worldwide and likewise all German Scale Modelling Stores answered the same: No sorry, what you are looking for is since a loooong time out of production and therefore it is sold out. Can it be true? :-((
My last hope was EBay.
And, after a lasting for months search there I got it :-))
I hope you have enjoyed the model and article.
Franz
Click on images below to see larger images