After the Americans fell in league with the Imperial Japanese conquest, the South Pacific fell prey to the combined juggernaught of American and Japanese allies. The Soviet Union had fallen prior to the war, in one of the shortest revolutions ever. Ever since, Russia has been synonymous with Switzerland: both were neutral. The impact of the attacks on both German and British interests were both aligned. They only needed a solidifier. With the cease fire between Germany and Britain being called in 1941, it was the death of Hitler, by suspicious means, and the placement of Georing as Chancelor in his place, that lead to the formalization of the alliance between the two powers. They combined as never before, sharing not only philosophy on fighter design, but actual companies.

Heinkel's fighter production unit was merged with a British conglomerate of well known companies. The resulting brainstorm took a year to produce, but was greatly needed in the pacific, and increasingly in South American and along the East Coast of the USA. This fighter finally made its debut in mid 1942, just in time to stave off the waves of supercharged P40 SeaHawks from the invasion of Columbia.

The craft carries no markings as it has just come off the floor. It sports the new experimental camoflague scheme for sea fighters of the UK/Ge alliance. OD/Gunship upper surfaces and hellblau unders.

It is armed with hardpoints under each wing and one for a drop tank in the centerline. It carries 4x50cal in each wing, just outboard of the landing gear, outside of the wing fold break.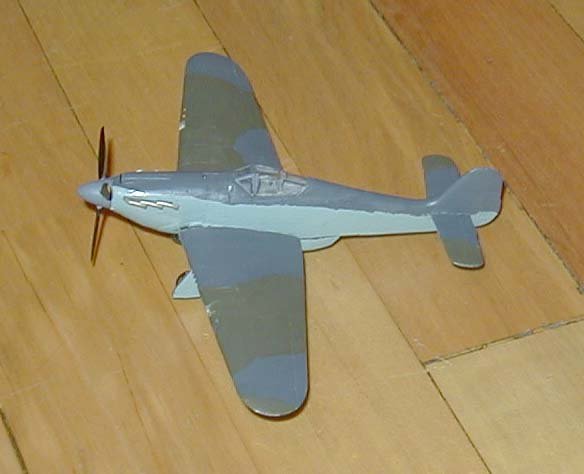 The kits are two RoG 1/72 WW2 fighters. One is British the other German. If you have not already guessed, they are a Hurricane and a Fw190. I had the idea to cut up these old and somewhat broken models (something I shuddered to think about ever doing before) with my new Dremel tool and seeing what I could do. Little did I think that I had NO PUTTY! AAAGH!
So anyways I rushed these for Silly Week. I have no markings, thus the bare color. I did however have a full back story and paint scheme in mind once I began.

Look for my 1/72 Buzzby, as well!
Mark Miller