A 1/?? carrier cycle for an ice-cream vendor
Gallery Article by Carl Gootzen on Jan 7 2004
Silly Week 2004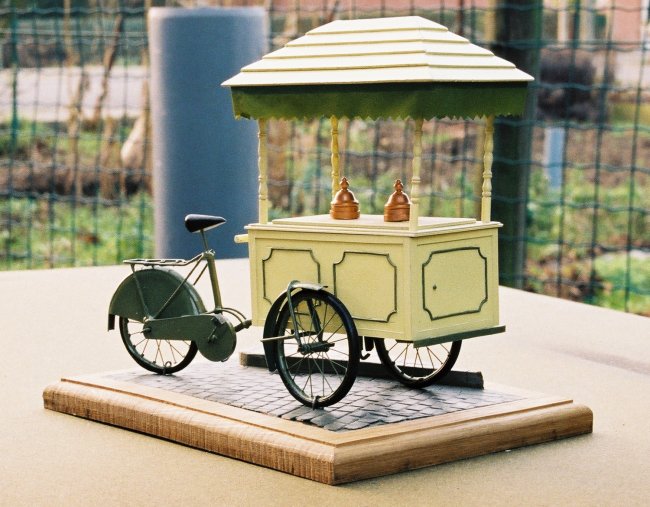 A friend of mine has a company where you can rent a limousine if you want to marry and you want to use a rather special or more attractive, older car. All of those cars or buses ( if you have lots of family invited!!) are old-timers, those beautiful cars you won't find in the daily traffic anymore!
Especially for the kids who are running around during the wedding-feast, he converted an old carrier cycle into a model of an ice-cream vendor where the kids can get their ice for free! The couple who will get married, can rent this carrier too as something special for the kids and those will be happy!!

Starting with a model of a carrier cycle that I found in a local small store, I used plasticard to make the front part and the roof-section. The posts, carrying the roof, are parts of a handrail you can find in a doll-house, the covers I used to cover the ice containers, where the lids of small coffee-pots also used in a doll house. The decoration on the side-panels, are made of stripped phone wire bend around a pencil.
The display is made of oak with the cobblestones carved out in polyester, painted after drying with Gunze-Sanyo and Humbrol. The bike was painted with the same paint used on the real model.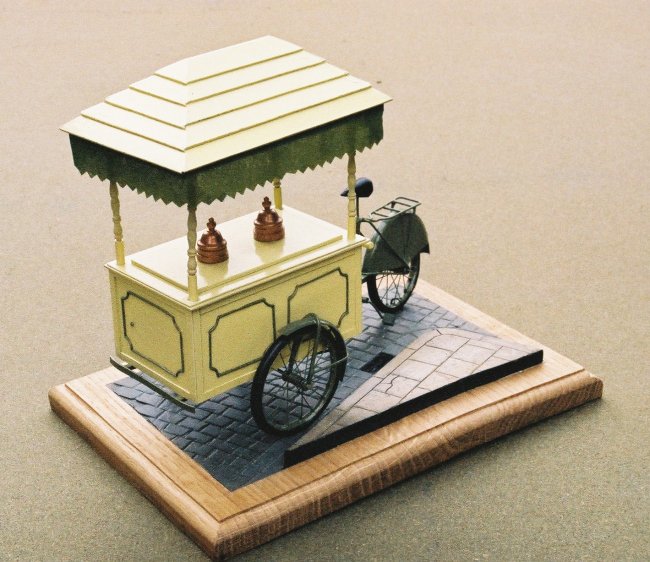 When it was finished, it was fun to build but sometimes defiant to complete!
Enjoy and best wishes for 2004, happy modelling!
Carl Gootzen