Academy Thunderbolts in SEAC Colours
1/72 Academy P-47D's
Gallery Article by David Fredericks
on Oct 18 2003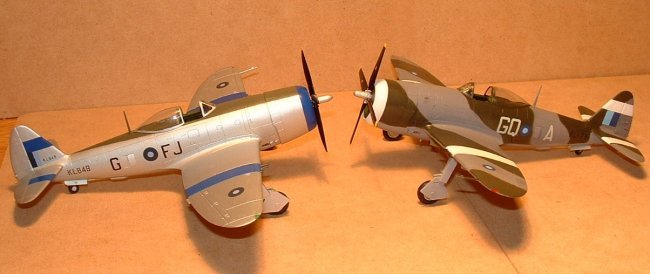 I normally build 1/72nd scale kits of aircraft used by the RAAF, both past and present. But while doing some research a few months ago I came across some photos of RAF Thunderbolts in SEAC colours as based in Burma. The information with these photos suggested that the squadrons concerned apparently had a sizeable contingent of Aussies amongst the aircrew ranks. A more detailed search of the excellent on-line reference database of the Australian War Memorial revealed that in late 1944, 134 Squadron (RAF) not only had RAAF pilots in the aircrew number but was commanded by an RAAF Squadron Leader from a suburb in Sydney, Australia, near where I lived as a youth. One particular photo of one of these aircraft can be seen at www.awm.gov.au – go to the database search and type in SEA0041 – where you'll see a great photo of one Thunderbolt of 134Sqn and three RAAF pilots, as described in the accompanying caption on the AWM site.
Well this well and truly whetted my appetite to build one and eventually more Thunderbolts as possibly flown by RAAF pilots in these RAF Squadrons based in South East Asia late in WW2. I chose the Academy 1/72nd scale P47D kits as my preferred kit, basically since they are readily available, reasonably priced and fairly accurate ( at least to my eye and based on reviews read). I found two versions of the kit at my local store, so I bought one of each version, only to find out later that one version contains decals for the RAF SEAC scheme while the other is solely provided with US decals.
My two kits were basically made 'out of the box' with some additional items in the cockpits. The principal changes are in colour schemes and decals, with the camouflage kit (GQ-A) using the Academy SEAC roundels with serials and codes on the sides obtained from my own collection of letters and numbers. The silver aircraft used letters and numbers from these same decal collections, but the roundels and fin flashes came from assorted Spitfire, Mosquito and Vengeance decal sheets that I had saved up.
The two aircraft relate to the following squadrons:
GQ-A KL173 of 134SQN – camouflaged Thunderbolt 2
FJ-G KL849 of 261SQN – silver finish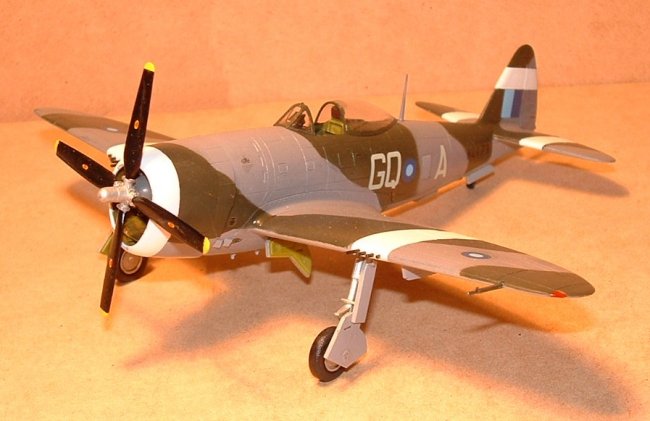 Overall I'm happy with the final products, as they not only let me produce aircraft kits that I wouldn't normally have done, but they also gave me a chance to experiment with varying techniques. But most importantly, it helped me discover a little bit more about the role that RAAF pilots and groundcrew played during World War 2 as part of the RAF.
Now to think about including a kit of a P47 Thunderbolt 1 (Razorback) in RAF SEAC colours to finish off this collection.
David Fredericks