1/72 AMT/Ertl PS-2 Boomerang
Gallery Article by Mark McClellan
on Oct 9 2003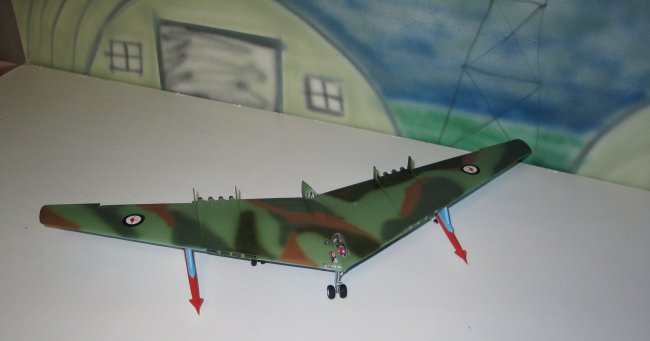 In a quest for increased patrol an surveillance of the massive Australian coastline, the Commonwealth Aircraft Corporation developed the PS-1 and later the PS-2 aircraft. The "P" was originally for "patrol" but with the capabilities of the flying wing fully realized, the Australian Defense Forces realized that it could well be for "penetration", hence the "PS" came to mean several things. "Patrol and surveillance" was the original designation, but later was changed with the introduction of the PS-2 to be "Penetration and Stealth".
About the model: I have been fascinated with the Northrop flying wings, and when my son bought two, I grabbed one and set about making something different. I have to give a lot of credit to Alvis Petrie for the inspiration of this project. When I saw his Basselope, I decided that I needed to make an Aussie version, much to my oldest son's disgust. (He'll get over it...

The AMT/Ertl kit is notable for the overall poor fit of the parts. If you can still find a kit and decide to build one, get a tube of putty to go with it, you'll need it. I have read a lot of what's available on the history of the real flying wing, and I personally feel that it was way ahead of it's time. The jet engines of the day just couldn't do it justice, so with a healthy dose of imagination, I decided to set things straight.

I took the landing gear from my B-36 kit (a still unfinished project, coming soon) and the "Hound Dog" missiles from my sons' B-52 (boy was he pissed..) and eventually came up with the Boomerang. I had to graft the B-36 gear onto the XB-49 gear and I feel that the result was o.k. The missiles hang down a fair bit, even with trimming the pods to fit the wings.
Alvis said in his article that he didn't remember the link to the Ninefinger website and to my knowledge these links will give some history and alternate history of the flying wings. I was even inspired to do my own and it too is included.
Have a look at:
Mark McClellan