NA Sabres
1/72 Fujimi NA F-86F-40 Sabre
1/72 Hasegawa NA F-86D Sabre Dog
Gallery Article by Eric Bade
on Oct 2 2003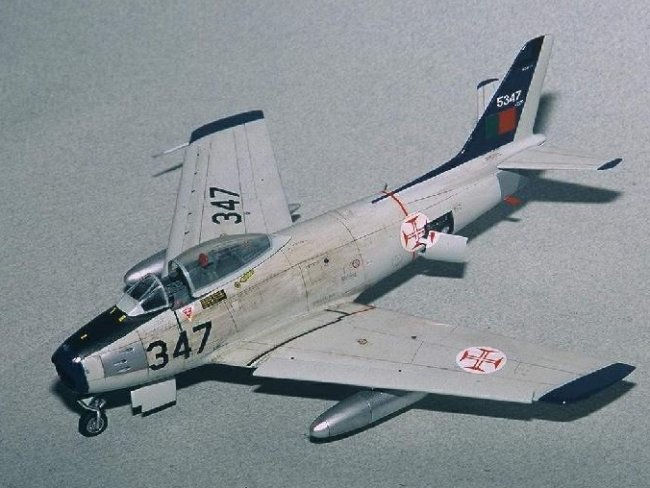 F-86F†
Some years ago, I was amazed by the cover of one of the first issues of the French AirFan magazine. A flight of blue nosed Portuguese F-86s which were described as the last NATO Sabres.

My kit actually started life as a Japanese F-86F-40. It seems Japan was the main user of this subversion of the Sabre. When Cutting Edge released a decal sheet featuring one of these Portuguese aircraft and I realised that Portugal actually had been using F-86F-40s, as my original paintjob had yellowed I decided to repaint my model as one or these red crossed Sabres.†

Construction
It is a nice recessed panel lines and well designed kit. It was built out of the box and as per instructions. No aftermarket details here, just quite a cement and paint project.

Cockpit was painted medium grey. A little of black on side consoles and instrument panels. White, red and yellow details and thatís it.

My only alteration to the kit was that I wanted slats dropped, which is the configuration of the real machines on the ground. Just a matter of careful slats cutting, and rebuilding of the hard wing leading edge with plasticard). Quite an easy task.
Painting
These aircraft actually started their career unpainted. I decided Iíd leave underwing fuel tanks silver. I used Humbrol 11 there. Rest of aircraft is XtraColour Air Defense Grey. One of my first experience with my Aztec airbrush. I suspect AirFan prints were a little under exposed or maybe that was due to blue Portuguese skies but it's blue is a little too deep on my kit, as it was on photos I had. I wanted to conform to the magazine (photographic evidence) and not to Cutting Edge instructions. Later information proved I was wrong. Lesson learned : be careful with photo interpretation, even when printed in colour. All featured aircraft showed heavy staining on fuselage sides, which I reproduced with a wash of brown.

Maybe my next Sabre will be a more common Korea War USAF machine but I was happy to add a model of a seldom depicted air force in my collection.†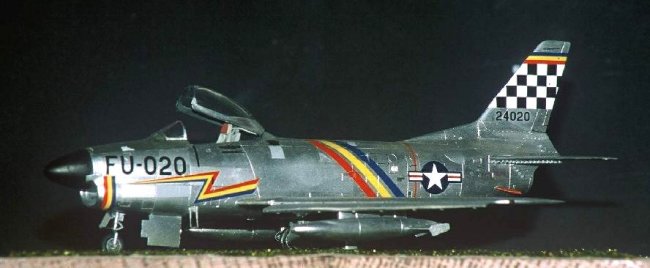 F-86D†
I won't say much more about the Sabre Dog. The Hasegawa kit has been along for a few years now. It is a simple but sharp and accurate little kit. Another Cement, sand and paint project. As per most Hasegawa kits in 1/72nd scale cockpit details are provided as flat surfaces. I had a Hi Tech resin part set which also enclosed slats. I simply added these parts to my model.†

Painting was achieved with a mix of enamel paints (Humbrol, Testors) as, although I now paint with acrylics mostly, I believe water based colors still are no match on silver finishes. Some silver decals and metal foil bits were used on some panels. Decals are from Aeromaster.
Eric Bade