1/48 Frems Aermacchi MB-339A
Gallery Article by Busolini Massimo
on Oct 1 2003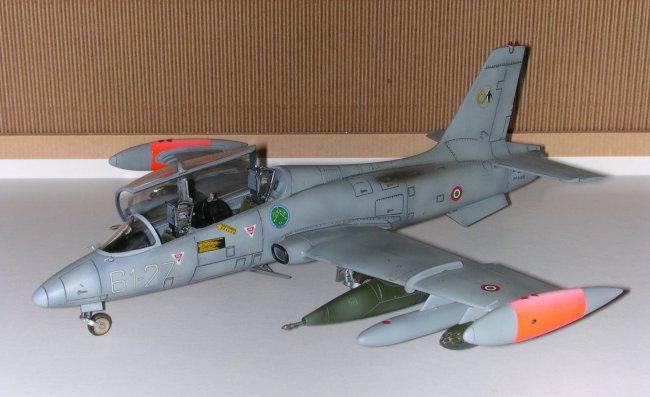 The AERMACCHI MB-339A project was started in 1972 to satisfy the Italian air force's request of an advanced trainer which could substitute towards the end of 70' the MB-326 in the basic training role.
The MB-339A is a two seater airplane which is also used in tactical support in the anti-tank or anti-helicopter role.
The MB-339A has been used by the Italian air force's flying schools since 1980, and has since 1982 also been adopted by the 313° Italian acrobatic team the "FRECCE TRICOLORI".
The model is introduced very regular in the forms, the pieces are very clean, but afflicted well known only one, it is quite the negative one big.
After the assembly, I executed the colouring with MODEL-MASTER colors.
I have chosen the current Italian scheme in low visibility. All the aircraft and the auxiliary tanks have been painted in dark grey FS 36320, the external fuel tanks have a big strip in orange fluorescent FS 28913, which subsequently I have given a faded look due to this being a perishable color with the bad weather.
The guns and the rocket launchers are in dark green FS24064.
After two bright paint passages, I have applied the decals of the 61° air brigade (flying school), and in the end, I have washed everything with black tempers.
Just dried....I removed all with a damp cloth. Later after I have aged it, I can say to have finished it……..yeahhhh!!!!!!!!!!!
Busolini Massimo