1/72 Heller

MD 450 Ouragan
Gallery Article by Rafael Colindres
on Sept 15 2003

El Salvador Independence Day 2003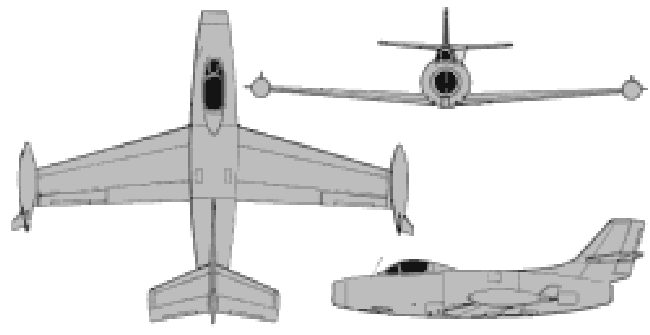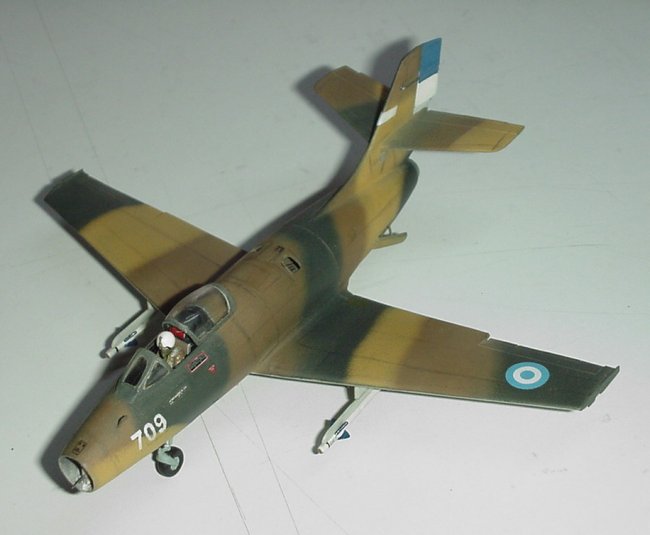 THE KIT
The kit chosen for this project was the French made 1/72 Heller kit. It is molded in beige plastic with 35 pieces. This is the only one model in existence in this scale and is more than 25 years old, but still excellent in quality and detail.

COCKPIT
Nicely done, includes a very good detailed seat, which I improved by adding photo etched seat belts. The control stick is included, the interior was painted in black, the instrument panel was scratch made and the dials were covered with a drop of Kristal Clear to simulate glass. The one piece canopy was cut in three pieces and was fully operational to simulate an open or closed cockpit.  
LANDING GEAR
Very well detailed, easy to assembly and align. Weight was added to compensate for the motor weight. The brake lines were added to the main landing gear, and the tires were bulged to simulate the aircraft weight.

FUSELAGE
Piece of cake! Superb fitting along both, the wings and fuselage. Little filling and sanding was necessary. The airbrakes were cut to show them in the open position, all the control surfaces were cut to show them in operational poses. The tail was cut to put the motor inside (Extra Tech Rolls Royce Nene) and it was fixed with plastic rod to simulate the arness like the Mig 15. The tip tanks were cut off the wing to represent an interceptor version of the Ouragan, and Shafir missiles were added with it's pylons. The flaps were also cut from the wing and were improved with its interior detail. 
PAINT
The out of the box you have a choice of two versions, Israeli Air Force version of the 56' campaign and French 1/12 Cambraisis of 1954. The paint scheme represents the Ouragan in the Salvadoran Air Force service at the end of 70's. All the marks were painted (only four decals were used the warning triangles and the rescue letterings) including the shieldless flag in the tail, the paneling details were enhanced with pastels and sealed with matte acrylic.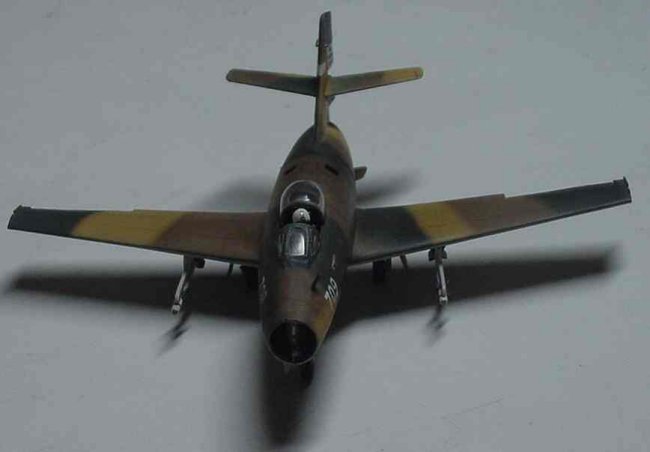 CONCLUSION
The MD 450 Ouragan is still my favorite aircraft since that I had the opportunity of seeing it fly and hear the sound of it's cannons firing. This project took more than a year.

HISTORY
The Ouragan was the first French serial production reactor and the Mysteres, Mirages, Rafale's and practically every French fighter descends from this special and rugged fighter. The Ouragan demonstrates it's value with the Israelis along its service history during at least two wars and countless minor conflicts. Including the incident when it shot down a Mig 15!

After The "100 hours war" against Honduras and the weapons embargo of the USA. The only jet available was the Ouragan, the FAS purchased 18 from Israel in 1975 and transitioned to the jet era, the rest is another story.
Rafael Colindres