1/72 Tamyia Kyushu J7W1 Shinden
| | |
| --- | --- |
| | Gallery Article by Radim Schimmer on Sept 4 2003 |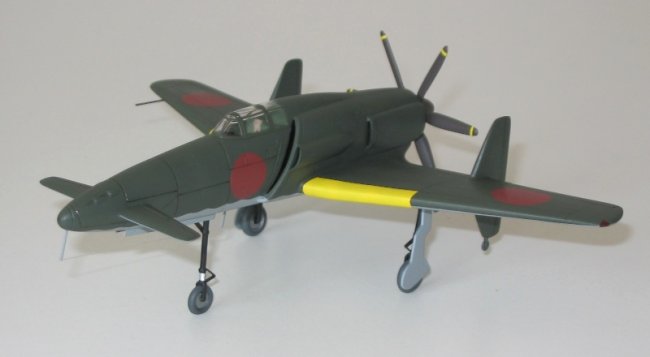 Kyushu J7W1 was one of the most unorthodox WWII aircrafts, the only canard plane ordered for serial production. J7W1 was designed as fast, heavy armored interceptor to face new US planes. After canard conception was successfully tested on gliders the Japan Navy ordered build of prototypes. Work began in June 1944 and the first of two prototypes was finished ten months later. The Navy ordered the Shinden into production even before the first flight. They planned to produce 150 machines each month. First prototype was flying only 3 times between August 3rd and 9th, 1945, counting total 45 minutes in air. Second prototype never fly. Only one survived J7W1 is now stored in Smithsonian Institution.
J7W1 had 9,7m length, 11.1m wingspan, 3.9m height, powered with 2100ps 18cyl. radial aircooled engine. Estimated top speed was 750km/h. Armament consisted of four 30mm guns.
The kit 
This kit I bought in one private sale for $3. I was captured by attractive cover art, however then I thought it was only project that had been never built (such as many Luft46 projects). So I was later quite surprised when I found real history of the plane. The kit contained quite small number of parts in dark green plastic with recessed panel lines and heavy rivets appropriate for steam engine. Cockpit contained literally nothing – only two pins for attaching pilot figure. So I added simple instrument panel, seat and control stick. I also made front wheel well from sheet plastic. The overall fit was poor, especially in fuselage to wing and front to rear parts of fuselage joints – so lot of filing and sanding was necessary. I also removed all rivets and rescribed some panel lines according to plans I found on Internet. Further modifications were only minor: position lights from clear plastic, thinned wheel covers, thinned edges of air intakes, added pitot tube, antenne masts, undercarriage legs actuators, drilled gun ports. Model was airbrushed with Agama alcohol based colors using masking tape - I was especially happy with wavy line on the nose. Hinomaru were airbrushed too. For yellow recognition stripes on leading edges I used solid yellow decal, but I was not at all satisfied with the shade. Canopy framing was done with decal stripes. All model was then brush coated with future to protect paint from damage of final airbrushed Humbrol satin varnish. Panel lines were only lightly emphasized, no weathering was made.  Pictures were taken with Canon Powershot A60 digital camera.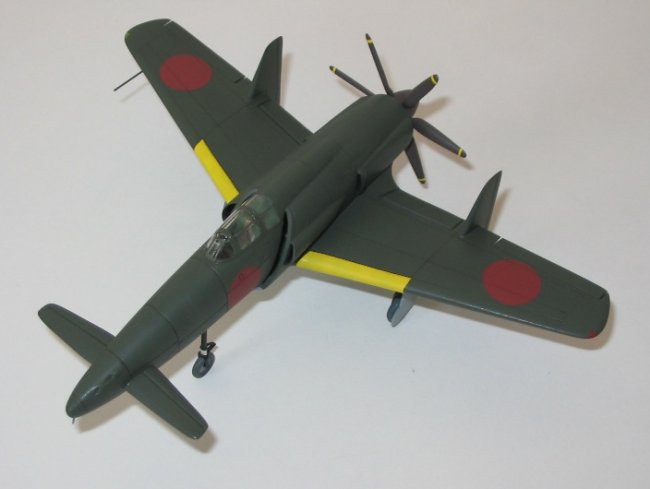 Happy modelling 
Radim Schimmer Brno, Czech Republic