1/72 Hobbycraft Tebuan
| | |
| --- | --- |
| | Gallery Article by Thomas Ng on Aug 31 2003 |

Malaysian National Day 2003

In 1966, TUDM ordered Canadair modified tactical version of Tutor jet trainers CL-41G, 20 of this duel role jet trainer and Close Support CL-41G-5 were acquired to form 2 squadron (No.6 & No.9), They were designated by a new name 'Tebuan' and it was powered by a more powerful GE-built J85-J4 engine. It featured a strengthened landing gear for soft field landings and 'zero-level' ejection seats. 6 underwing and belly hard points were added for various ordnance and fuel tanks,

Tebuan is Unique to TUDM because not only TUDM is the sole user but the arrival of Tebuan also marked TUDM entered the jet age and a change in the role from that of a support role to a combat role.

TUDM's Tebuans were used as a 'day fighter ground attack' mudmover aircraft, they armed with mini-guns, Rockets and 500 lb bombs and were utilized in supporting the Malaysian Army in its operations against the communist insurgents in the 70's.

After nearly 20 years of service, TUDM ended Tebuan service in 1983, it was replaced by A-4PTM.
This is 1/72 Hobbycraft Tutor/Tebuan, This is typical of Hobbycraft, A Basic kit come with an excellent decal, Decal option including RCAF Snowbrid, TUDM Early and Late marking.

Some modification done include, The kit come without dashboard, so an Al foil replacement was added. also added is the pitot tube on the tip of the wing by Guitar wire.

An UHF antenna was added with plastic card on top of spine behind cockpit

A sensor dome was modified from a plastic tea spoon fitted bellow the cockpit, another blade antenna behind dome was also added.

A fuel hose was also added below the fuselage.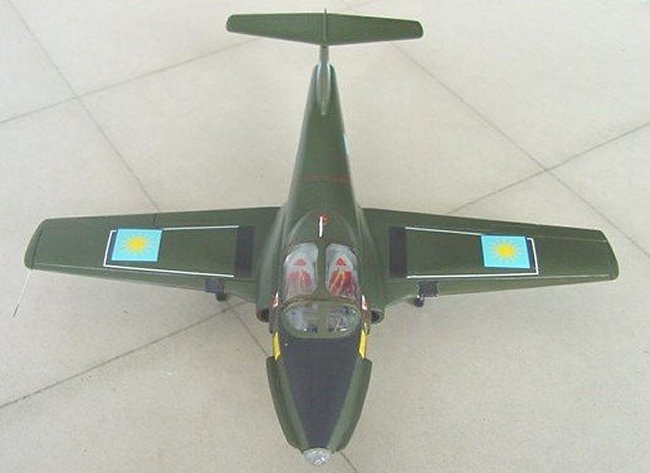 Decals are from the kit, I chose the early TUDM marking, Because I kinda like the big, bright and colorful marking on this little plane.
Thomas Ng