1/48 Hasegawa F-16A "Thunderbird"
| | |
| --- | --- |
| | Gallery Article by Rodney Williams on Aug 16 2003 |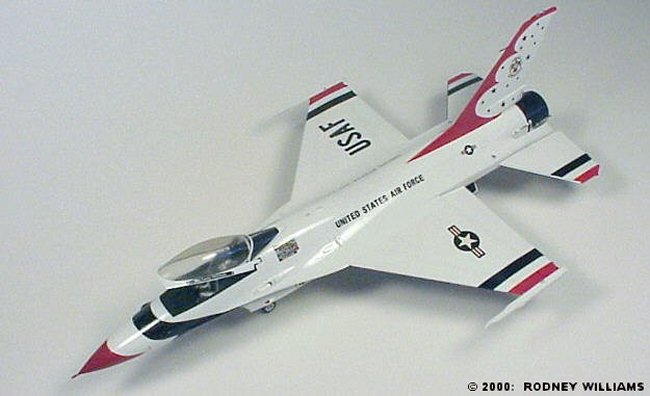 My first "Thunderbird" was the F-100D, which can be viewed on this site.

A few years ago, I built my second 1/48 scale Thunderbird, using the F-16A kit by Hasegawa. The kit was molded in white plastic, and most all of the parts fit darn good. There was next to no flashing.

I started to assemble the cockpit, and noticed that both of the kits canopies had a seam down the center line, which had to be removed.

I warmed up a section of modeling clay with my hands, and inserted it into the inside of my "smoke colored" canopy, including the aft canopy section which is secured to the fuselage. This clay keeps your canopy from flexing during the sanding/polishing process, which in turn "helps" prevent the parts from cracking/crazing.

The finished parts were dipped into Future Floor Wax several times. A few weeks later, the parts were mask off and I air brushed on flat black on the inside, using Tamiya XF-1. The exterior was painted with my white, and clear automotive lacquer. I applied kit decals on both sides of the canopy, then added more clear lacquer.

The entire model was painted with my white lacquer. Photo 7 shows my pre cut frisket film on the models fin. I have just finished applying a few coats of the red lacquer, with many more coats to go. The next photo shows the finished area, including the kit decals. Like my F-100D, I cut out each star, and put them on the model. It's a bit time consuming, but it gets rid of all the excess decal film, and no chance of "silvering."

I mask off the front section of the model, including the wing tips, then applied the red, and blue lacquer.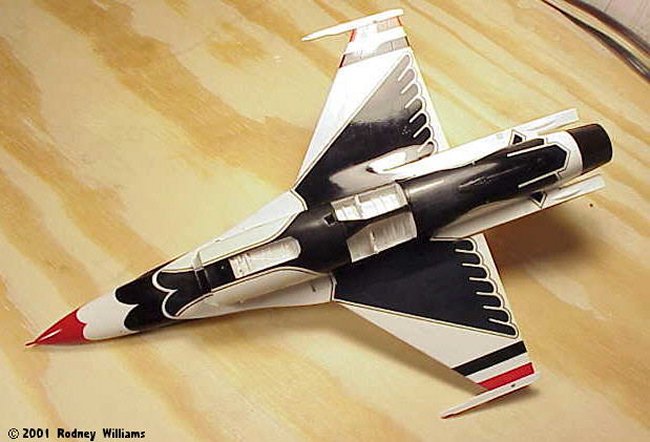 Now comes the difficult part. I knew in advance that the kit decals, which go on the bottom of the model, did not line up to perfection. After a few days of "decal drying time," I sprayed on several coats of clear lacquer. I attached some very low tack masking tape, and liquid masking film, then sprayed on my blue lacquer to fill in the gaps. The blue lacquer was not a perfect color match to the blue decal film, but who cares. I got the end result that I wanted.

That's it for my second Thunderbird!

Happy Modeling!
Rodney Williams