1/72 Fujimi A-7D
| | |
| --- | --- |
| | Gallery Article by Hiran Horta on July 31 2003 |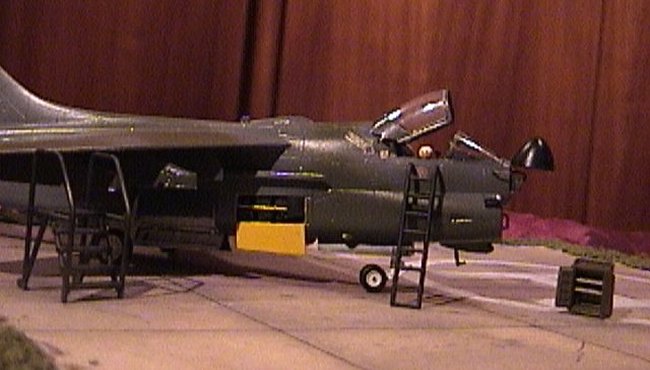 "Dedicated to the memory of my friend Hamiltom Pantuzo."

This is a kit from Fujimi in 1/72 scale of the version of the A7d (serial #f11)
with some modifications scratchbuilt by myself. I also used some items from sets #7 and #6 of the Hasegawa to mount diorama.

The base is wooden, the grass is from Woodlands Scenics, used too plastic strips
to make the internal part of the equipment, with research used the Lock On book #9 from Verlindan and the seatbelts were from True Details.

Here I opened the kit to make a box with the plastic strips, to make the internal equipment I used parts left over parts from others kits.

I cut the radar part to position the nose cone in the open position, using my imagination to be able to make the radar and also the one idea of the Mr. Claudio.

The interesting detail of the radar is that the kit came with the halves of the mold with different thickness. The intake cover was also scratchbuilt.
You'll notice in the photo that the helmet this detailed with small pieces of decals. I opened up the steps for the ascent of the pilot and I added the ladder.
Hiran Horta
Click on images below to see larger images