1/48 Airfix Sepecat Jaguar GR3
| | |
| --- | --- |
| | Gallery Article by Karl W Branson on Aug 12 2003 |
This is my 1/48 scale SEPECT Jaguar GR3 by Airfix. Since building my last kit, an Airfix 1/48 Lightning, I was interested in building another RAF jet.
When I was young I had a die-cast Dinky model of the Jaguar (I still have it, itís in the drawer full of other Dinky toys waiting for me to restore), so I thought I would have a go with the Airfix Version.
The kit went together pretty much out of the box apart from the cockpit, that had a total lack of detail, with only decals for the instrument panel and a very strange looking joystick. I replaced the instrument decals with scratch build control panels, and a new scratch built joystick, also for the GR3 version I had to modify the front instrument panel to include the TV monitor. The rest of the kit went together fairly easily, with only minimal filling required to build up the main assemblies ready for spraying; I used Humbrol enamels to Air Brush the model. After applying the decals I over coated the whole model with Humbrol Matt Cote for an even finish.
Final assembly was just a matter of installing the landing gear, the Westinghouse AN/ALQ-101 ECM pod and PHIMAT chaff pod, dirtying down and panel lines were done with thinned out grey/black enamel paint.
One thing missing from the GR3 kit is TIALD pod; Iíll need to scratch build one at some point as the kit comes with standard GR1 stores Ė still valid though for this aircraft.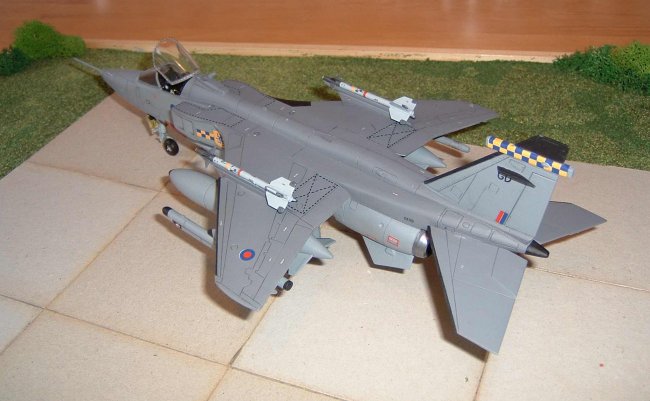 Overall Iím pleased with this kit and the level of detail it offers (except perhaps the cockpit), so next in line is another Arifix (that will be three in a row!!) kit of the Tornado GR4.
Karl W Branson