1/48 Collect-Aire F-86H
| | |
| --- | --- |
| | Gallery Article by Fotios Rouch |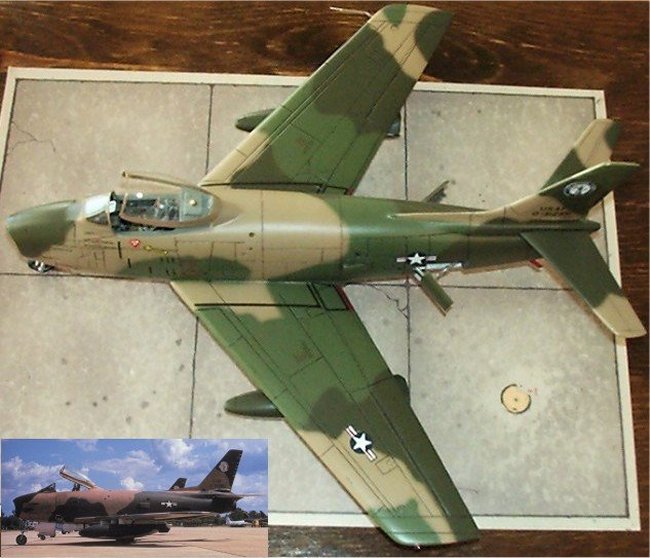 This is the hot rod variant of the F-86 model series.
To accommodate the larger General Electric J73 engine North American made the fuselage taller by six inches and longer by two feet. They gave it a bigger intake and 562 gallons of internal fuel capacity. It got bigger tail wings and a clamshell like canopy. The tail was taller by 3 inches and it got the "6-3" wing (later). All that made the Sabre Hog 10,000 pounds heavier than the F variant. Maybe this is why I like it so much! The last F-86H Sabre was retired from the New York ANG on January of 1972. After that the Navy took over the low hour leftovers and used them both as target drones and as MiG simulators for TOP GUN aggressor training.

This is the 1:48th scale Collect-Aire F-86H. All resin with metal landing gear and vac canopy. Built mostly straight out of the box with little extras (added vortex generators and some cockpit details) or aftermarket additions (True Details wheels). It is one of my first Collect-Aire build ups. Today I would have done it differently. I have two more stashed away for a later time.

I chose to do it in ANG colors. My knowledge and ability to tame full resin kits was not at the same level as it is today so I opted out of a natural metal finish.

The resin in the kit was a little bit rough back in those days. Later editions of the kit improved a lot and now it seems that the resin shop has made yet more great improvements as evidenced by their new kits (E-2C, AT-9 Jeep) and all the later re-releases.

I started by cleaning up the parts and fixing all the surface blemishes. I proceeded with working on the smaller parts and completing the cockpit.

Here are some progress shots showing the cockpit, the vortex generators and of course the "stash" of the F-86H to do pile!
Today I would have used almost all of the cockpit parts out of an F-86D including the canopy. I would probably have used the main wing too. Today I would have know about the 3M Acryl Blue magic and the use of Alclad II. Next time around I will do things differently. This is the whole idea is it not?
Fotios Rouch