1/72 Pantera Su-22 M2
| | |
| --- | --- |
| | Gallery Article by Marlon Guevara |
Peruvian Air Force 
11th Aerial Base "Capt.Victor Montes" Air Base, Talara, Peru 
Pantera kit have good shape, but the plastic is weak and brittle, originally was Su-17M3 and have photo etched parts.
This model depicts the last camuflage scheme used by the Peruvian fitters, after its transfer from Arequipa to Talara.
Modifications:
Change of principal landing gear,with another of 1/72 Berkut Su-30MK.

Addition of 2 cannons.

Change of the pitot tubes with plasticard.

Addition of 2 drag bombs from a older 1/72 Revell MiG-29UB.
Painting:
New selvatic scheme: Beret Green 1571, Medium Green (FS34102), Gunship Gray (FS 36118), Light ghost gray (FS36375).

Decals:
Albatros (Southern Flying Tigers) and few of the kit.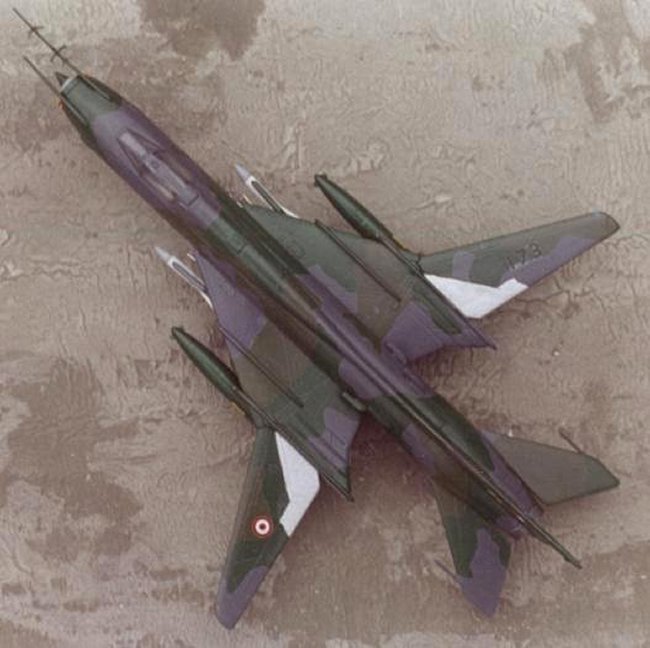 Su-22 M2's were based in La Joya Air base (Arequipa,south of Peru) with desertic camuflage, then were moved to Victor Montes Air base (Talara north of Peru) showing new selvatic camuflage, where serve with Su-25's in 11th Aerial Group.
Marlon Guevara