1/72 Esci F-16
| | |
| --- | --- |
| | Gallery Article by Ozkan Uner |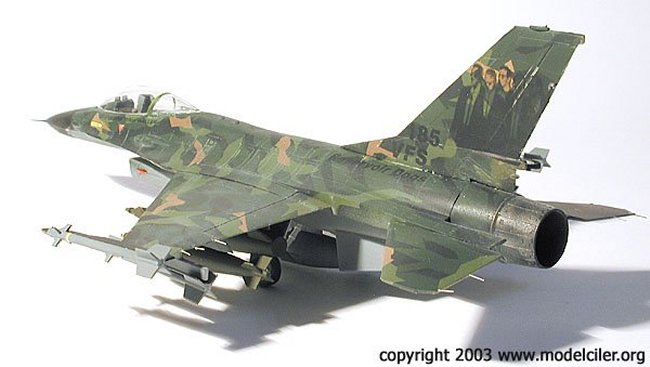 F-16 185th VFS Reservoir Dogs
Hi all, I'm new to ARC for exhibition but I've been reading these pages more than one year and decided time to showup come now. I'm living in Istanbul Turkey, I'm a fan of Turkish Aviation so I mostly try to make Turkish Aircraft. Surprisingly its sometimes really hard to find documentation about them, then any US aircraft, even from here. This model of me is not a Turkish Aircraft but its an aircraft that I can find as much information as I want (the aircraft that I fly with, I mean ;) ) I'm a member of 185th VFS Reservoir Dogs, a virtual fighter squadron, flying with Falcon 4.0 simulator.
Kit is an old Esci F-16 Thunderbirds kit, which is a gift for me from a friend (Mr. Avgan, thanks Batur, thats one of the best gifts I've ever received). Although the kit is an F-16A I feel ok to make it as an F-16C Block 50 that we fly with. There are no major differences at the body, from the ones appears in my screen so I think I can live with this.
This aircraft has a paint scheme of "F-16 Viggen Aggressor" by Viperware, as its one of my favorite patterns I decided to make the kit as a gift for a pilot from my flight that visits my country; John 'Triton' Waller as you can read from the side of the cockpit. As John is from Sweden the pattern also fits for him right.
Making the model in viggen pattern was fun. I dont have any major problems except mixing the correct colors from my Tamiya paints. (though I'm still not satisfied with colors)
I created the decals with an inkjet decal paper with the images taken directly from skin files. I tried to make color decals but my every attempt ended with decals cracking. When I use only black color everything goes fine. I thought of making all the kit looking digital as its a model of a digital plane but it was hard to make the camouflage with small squares (pixels) to form viggen scheme, and also trying to create wireframe missiles was not successfull. Here I added some screenshots to give idea for the planes.
Thats all for now, its time to thank to people who have acts on the creation of this model. First thanks to Esra 'Phantom' ONCEL for her leading on making me a part of 185th, and my friends at the squadron. Then Mr. Ufuk Aydiner and Mr.Arkut Yuksel for their helps on colors and photography.
Ozkan Uner