1/48 Hasegawa A-7K conversion
| | |
| --- | --- |
| | Gallery Article by Jan Visser |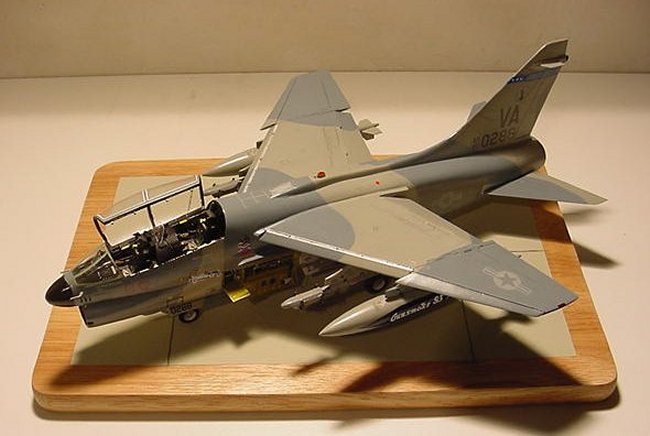 Corsair A-7K Virginia ANG / 0288
Often I dreamt about rebuilding a Corsair A-7D into a A-7K. But than when you have a good look at the pictures and/or drawings it's a hell of a job.
Some months ago I visited my favourite modelshop here in The Netherlands and there it was ……….. a dream became reality. A resin 1/48 Czech Republic made kit in two versions both Navy and USAF, based on the famous Hasegawa kit.
The kit provides you the resin fuselage, tail, topside innerwing complete cockpit incl. seats and decals. I bought the Arizona ANG version.
So I started with the A-7K, a nice kit but with lots of work to be done. F.i. due to bad wrapping of the resin some small parts of the top wing were broken of and the well known problem of lots of small holes in the resin fuselage. Furthermore I decided not to use the cockpit parts and seats but the ones from Blackbox for the A-7D. Front seat has to be corrected with canopy piercers and I decided to add lots of detail to innerside of the cockpit.
The open side panels were cut out from the Hasegawa kit and replaced in the resin fuselage, again lots of work as the resin is very very thick at the bottom, but I managed. Also the fitting of the top resin wing and the Hasegawa underwing isn't good, lots of sanding has to be done here.
The canopy is also a special project, there is only one in the kit, often you see two in a resin kit and all the details are missing. The complete framework is scratchbuilt and the mirrors (6) are etchwork leftovers.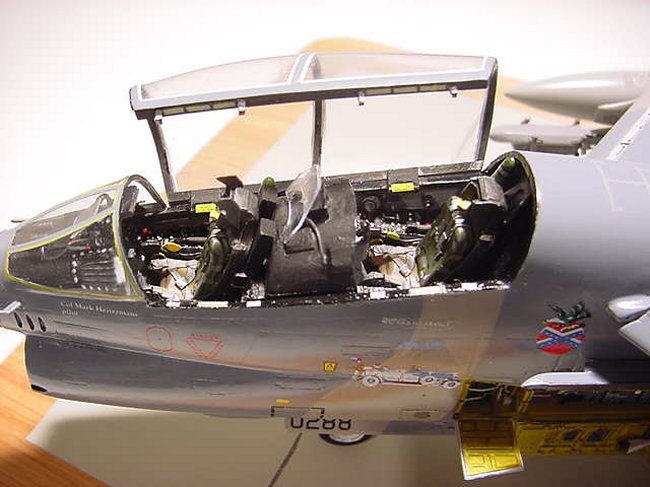 Rest of the plane is all Hasegawa parts which have placed in the correct places.
I also choose not the use the decals from the kit but to create my own plane.
Microscale decals were used with again some leftovers and I decided not to use the wraparound colour scheme but the two tone gray especially developed for the ANG.
However I must confess that this plane AF80 / 0288 is shown in pictures in the wraparound scheme…………………… but still I hope you like it
Jan Visser