1/48 Monogram T-37 "Tweety Bird"
| | |
| --- | --- |
| | Gallery Article by M.J.Gormley |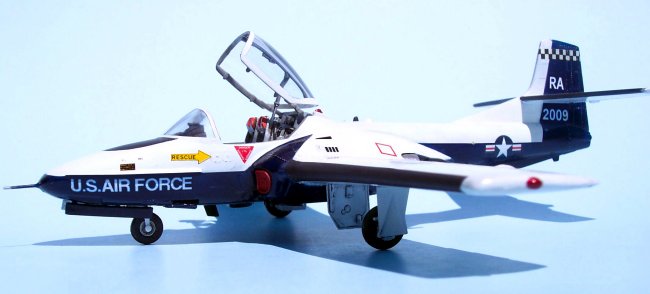 Here is my T-37 "Tweety Bird" from the Monogram A-37 Dragonfly kit. I thought it would be easy to convert the kit to a T-37 at first, until I opened the box and found there were some hurdles to overcome. First, I didn't want tip tanks, and had to chop off the kit tanks as they were molded to the wings. I was hoping they would be optional…wrong. After cutting them off I fashioned wing tips out of milliput based on reference pics off the net. They're close, but not perfect. Also to my dismay, the A-37 has rather extensive radar housing on top of the fuselage behind the cockpit, which had to be dealt with as well, as it is also molded into the fuselage halves. Starting with a chain saw, then my old boy scout ax, and finally diminishing grades of sandpaper, I was able to alleviate the dilemma.
The model was painted model master flat white and a mix of Testors dark blue and I think a little black to match the "blue" color as close as I possible . A few coats of future and on to decal.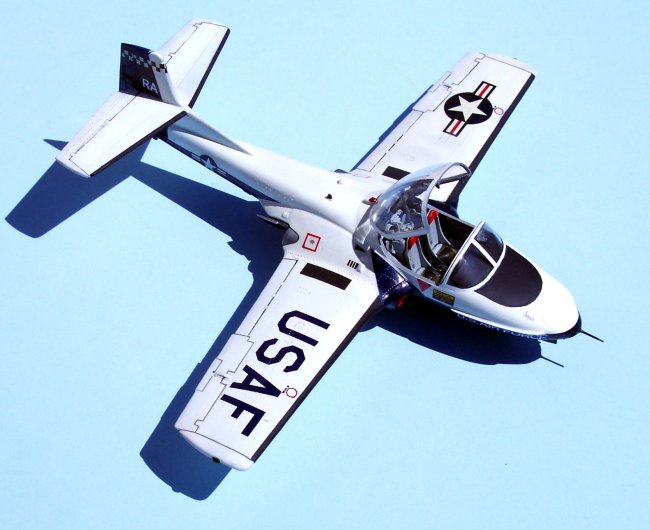 The only other hurdle was raiding my spare decal box for the USAF & Stars & Bars on the wings, as well as other better decals that come with the kit. Not that they're bad, but they're for the lo-viz A-37, not the T-37. I had to make the white U.S.AIR FORCE decals on the inkjet using VitaCal stock & Spray, as well as the tail lettering and numbers. The actual aircraft had a Training shield on the tail also which I wasn't able to find, or replicate. I've always liked this little "Tweet" and think it would be a great weekend plane to throw the golf clubs or fishin' pole in the back and have a ball with.
Hope you enjoy the pics, and God bless!
M.J.Gormley