1/72 Heller JA-37 Jaktviggen
| | |
| --- | --- |
| | Gallery Article by Steven Lu |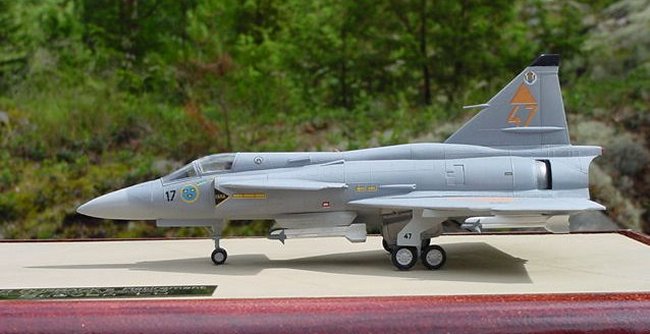 Here is Heller 1/72 Swedish JA-37 Jaktviggen. I built it straight out of box as a retirement gift to my mentor, Gunnar Ousback. Gunnar got involved in Viggen's development as an engineer in SAAB. So viggen is just like Gunnar's baby and definitely his favourite.
The kit has some fitting problems. So filling and sanding are needed. I built the base and a display case following the instruction in an article in Fine Scale Modeler. I ordered the black brass plaque from Sven Almer in Canada. For "safety' reason, I anchored landing gears on the base using 0.015" steel wire and tiny drops of super glue. I used Model Master Acrylics paint and kit decal. Floquil concrete paint was used for the base. No weathering was added due to tight schedule.
I worked 80 hours on this project and got it done in two weeks so that I can give it to Gunnar before he left U.S. I nearly wore myself out by doing this while keeping my day time job at the same time. The outcome looks good. Gunnar got a very nice and meaningful retirement gift and he's very happy. The effort worth it.
The pictures that you see here were taken by Gunnar at my viggen's, no I should say Gunnar's viggen's new home in Sweden. It took 6 weeks for the shipment but it arrived safe without breaking anything.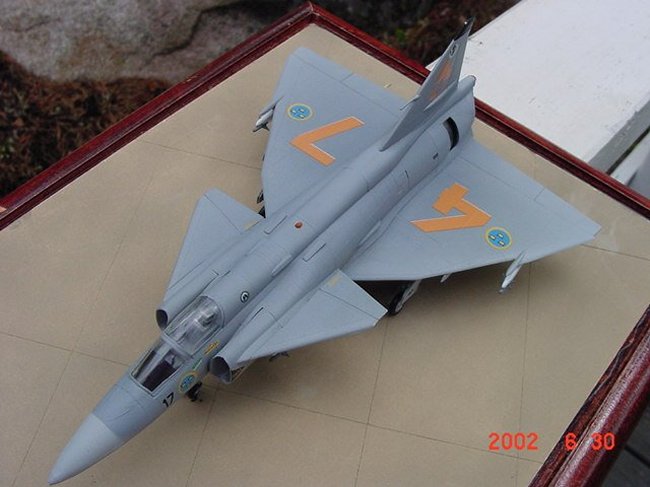 It's the first aircraft that rolled out from my workshop in my two year modeling life. Next time, if I can find a viggen in 1/48 scale, I'm going to detail it with the canopy open and give it to Gunnar if I have a chance to take a vacation in Sweden.
Steven Lu