1/48 Revell B-1B Lancer
| | |
| --- | --- |
| | Gallery Article by George Gochaleishvili |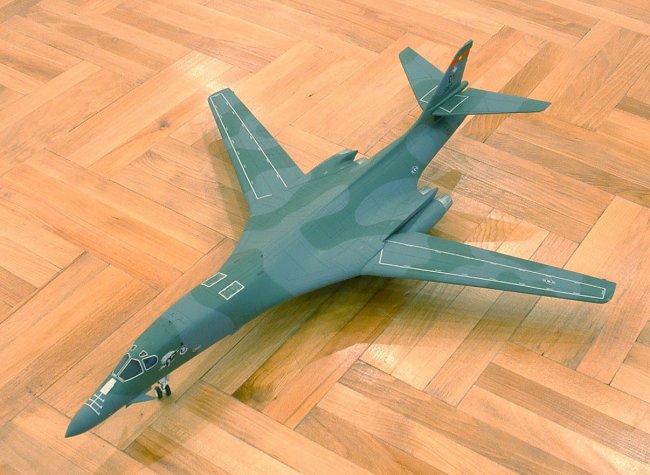 PREFACE
It was sunny day on 3 July, 2002. I came to work and... what should I see....A BIG BOX, A REALLY BIG BOX on the chair at my workplace! I unpacked it and got this HUGE model in my hands... That was my birthday.

My coworkers gave me such a present.

Well, I hadn't assembled any models during the previous 10 years, so this one was the 'reanimation' of my modeling skills, so I tried.

The kit is really huge, but very well detailed, especially gear bays and systems. I didn't try to 'reach the stars' in this first (after long pause) model and made made it basically out-of-the-box. I have colored my B-1B in a tri-color scheme of its real predecessors from September 1993.
CONSTRUCTION
The construction went without any occasions, but I noticed some big gaps between cabin and tail sections with fuselage. So these areas required lots of putty (I used Revell's one). There was funny replacement for the ballast for cabin part - I used high a voltage condensator (it's enough heavy) from old black/white TV.

Also I cut out wing light areas and set in clear (red and blue) plastic ones - looks great!
Although 'Cutting Edge Modelworks' provides new featherless exhausts, I didn't use them and left the existing ones, but I tried to paint them to match the early version of the B1 exhaust cans and did some little weathering. Airstream directors also were mounted on the tail.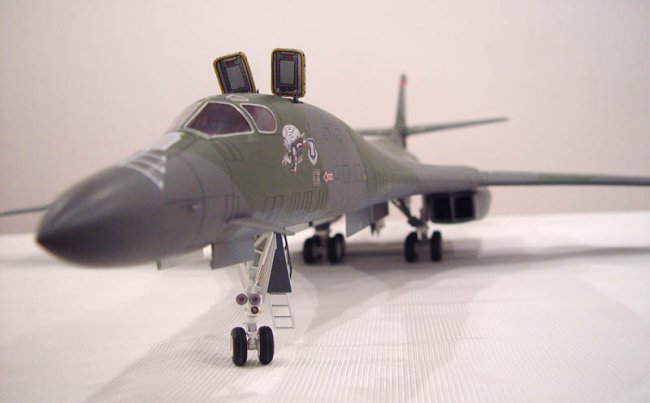 One of the improvements was cutting separately two hatches over defensive/offensive crew seats. I made them so they could be open or closed, instead of original nonrealistic one-slice cover. Although I was thinking about creating opening cockpit hatches, but I hesitated to do this because of lack of experience. Original kit contains high quality decals and because I intended to build my B1-B from a box - I used them.
So what can I say more... This is HUGE plane and you have to be prepared for its huge size before, during and of course after building it.

George Gochaleishvili