1/144 Dragon F-16
| | |
| --- | --- |
| | Gallery Article by Giovanni Gasparotto |
Here's a model I've built last year; It's an elaboration of the 1/144 kit moulded by Dragon, reproducing an F-16 of the first batches (block 10), deployed in Saudi Arabia during the Gulf war (op. Desert Storm), more than ten years ago.
Once I opened the box, I was really impressed by the neatly engraved panel lines and by the extreme accuracy of some details such the exhaust, the two bombs and the gear legs. By the way I've also realized that some other parts were badly reproduced. In particular nose, air intake, lerxes and tail fin were of a wrong shape. Canopy was
unacceptably thick (but also wrong in shape) to be utilized; the wings lacked of symmetry.
My work started with a deep correction of the outfit shapes using plasticard, cianoacrilate and sandpaper; scale plans were precious on that phase.
Second step consisted of reproducing as much details as possible, such as ejection seat, gear bay doors, canopy and its frame, blade antennas etc., that have been integrally scratchbuilt.
A great effort was also spent on improving parts provided by the kit such as tanks, missiles, gear legs etc.
Once finished the model looked great. I was only disappointed by the decal film whose thickness partially compromised the result.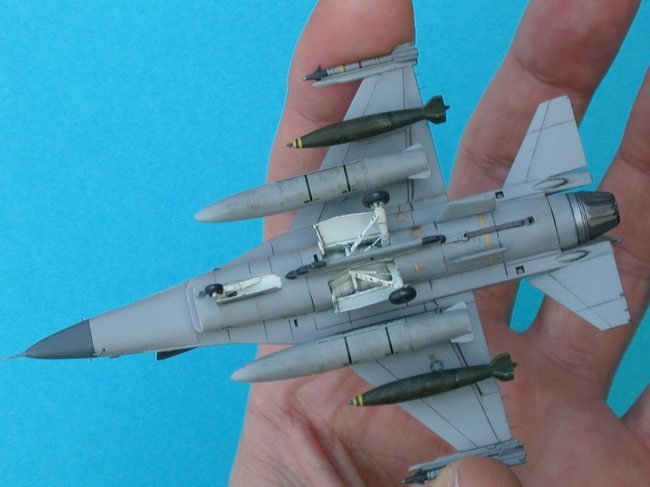 I hope one day the two Bobs could provide me a decal sheet of the appropriate scale!!! (see below a picture of the Dragon 1/144 F-18a I'm building on these days)
Giovanni Gasparotto