1/48 Academy F4U-4 Corsair
| | |
| --- | --- |
| | Gallery Article by Jim Baker |
Spotted Pony

Caveat: After I originally wrote this article, I heard that others have released decal sheets for this paint scheme. This was NOT made using any of those decal sheets, and WAS made from original sources. So there.

I was doing research for my big 1/32 Revell F4U-1A Corsair and stumbled across a single poorly-printed photo in the Squadron/Signal F4U Corsair in Action book of a very strange paint job on an F4U-4. Being a lover of oddball paint schemes, I was instantly drawn to this spotted pony (the term the Most Excellent Modeler Alex Bernardo has assigned to this airplane), and as soon as I finished the big U-bird I started doing some recreational research on this NAS Olathe paint scheme.

I called my dad, whose collection of literally thousands of negatives and slides affords me fascinating paint schemes for military and civilian aircraft from all eras, and lo and behold he sent me contact prints (in 616 format, for you photogs who know what that means) of a complete walkaround of an Olathe Corsair in this scheme, not the airplane shown in the Squadron book but another airplane, shot at Blythe, California, in June 1961 (he keeps track of this stuff).

This is all I know about this particular paint scheme. Since I have now seen the pattern on at least three F4U-

4s, I can only assume that this was some sort of a transitional scheme applied to Olathe Corsairs sometime in the late 1950s.

This particular airplane is an interesting bird. I like this one because of its dilapidated condition, the photos having been shot after the airplane was surplused by the Navy. The white left elevator has been replaced by a blue one, and the right wheel is also blue. The photographs indicate that the drop tanks are different, as well; I extrapolated that one would be blue and the other white.

The Kit
The Academy F4U-4 is essentially the same thing as the Hasegawa kit, even with the same†basic layout on the sprues. There are, however, two major differences Ė the Academy kit is engraved, and the forward fuselage is considerably wider than the Hasegawa kit. There is one minor difference, as well Ė the Academy propeller is useless. On all three kits Iíve built, the prop blades are is misshapen and concave in the rear. I substituted an old Hasegawa propeller for the Academy one, although a prop from a Monogram P-47D bubbletop or F4U-4 would probably work better, as the Hasegawa prop isnít much better than the Academy one.

Overall, the fit is quite good. Like the Hasegawa kit, it desperately needs a cockpit, so I added a True Details cockpit I had lying around. I boxed in the tail wheel well and added some ribbing, and let it go at that. Originally, I had intended to cut the flaps out and install flaps from an old Hobbycraft F4U-1D kit, but that got really ugly really quickly and resulted in my purchasing of a replacement kit for the wings. I also found out that the panel lines for the outboard flap on the right wing are too far out, so I had to fill and scribe new panel lines for the flap/aileron break.†

Also, my copy of the kit was an F4U-4B, which has the cannon, and I needed a straight Ė4, so I had to drill out the gun ports and shell ejection chutes. I didnít add anything behind them, since I wasnít really taking this model THAT seriously, so there are probably some see-throughs, but Iíll deal with it. Although the airplane I modeled has rocket rails, since I didnít have any and didnít feel like making any, I decided to leave them off. If I come across a set (I understand the Hasegawa P-51D kit has them, but I donít have one of those), I may add them at a later date.

The Paint & Decals †
I use pretty much exclusively Polly-Scale paint. I masked the canopy with Parafilm M. The Light Gull Grey fuselage is painted Polly Scale US Navy Light Grey, and the underside and control surfaces are Flat White. I found this really cool Polly-Scale color called Weather†Deck Blue, which to me looks like a slightly faded Sea Blue, and I used this color for the outboard wing surfaces and the one elevator and rudder. The anti-glare panel is black.†As far as I know, Polly-Scale does not make International Orange (or rather, even if they did our local hobby shop would never get it in), so I ended up using Model Master Enamel for the Reserve band on the rear fuselage.††

The decals are mostly old Superscale and Aeromaster, with contribution of the small black ĎOlatheí and the letter K for the wing and rudder from a certain Mr. Also Most Excellent Modeler Rafe Morrissey. Thanks, Rafe.

After painting the entire paint job and glossing it with Polly-Scale clear gloss, I highlighted the panel lines with a wash of pastel sludge, not really caring whether I got it all off when I wiped it away or not, since the airplane is pretty grungy in the photographs anyway. I drybrushed paint chipping and added splotches of pastel to the undersides and the wings, and then added oil streaks with thinned Polly-Scale Flat Black. Then I flat-coated the whole model and added the exhaust streaks with pastel powder.††

The antenna is stretched sprue. †I added the remaining bits Ė wheels, gear doors, etc. Ė and called it quits.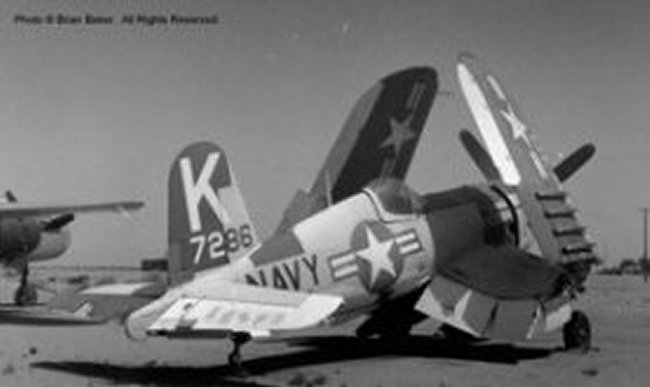 NAS Olathe, Kansas, ca. 1960.

Overall
I like the result. Itís an oddball paint job, and interesting to look at. Aside from apparent width problems, the Academy F4U-4 looks like a Corsair, and itís certainly cheap enough that I could even justify lots of add-ons. This model will probably never see a contest table, but it looks OK sitting next to the rest of my Corsairs on my shelf. †

References
Original photos shot by Brian Baker, Blythe, California, 1961.

Squadron/Signal F4U Corsair in Action for the original idea.
Jim Baker