1/72 Hasegawa USAF F-16C
| | |
| --- | --- |
| | Gallery Article by Don Weixl |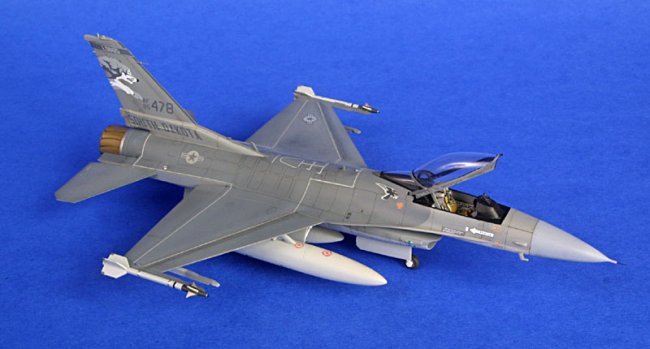 I picked up this kit when I first got back into modelling a few years ago after a 20 year layoff for my career, model trains, marriage etc.. The highlight of the kit are it's extremely fine and crisp recessed panel lines and crystal clear canopy.
I picked up a F-16 Superscale decal sheet from Squadron for $.99. The wolf markings for the North Dakota Air National Guard are real eye catchers so I decided to build that version. I was able to find a couple reference photos on the net and a USAF yearbook to confirm the markings and paint scheme.

The kit went together very well with little need for putty. I did have 1 disaster in that my initial primer coat of auto primer decanted and sprayed through my Pasche H airbrush didn't stick very well to the plastic. I had washed the kit carefully, so this adhesion problem was a mystery to me.
Luckily I was able to strip off the primer with a soak in Pinesol and a scrub with a toothbrush under hot running water. I sanded the entire kit with a 3M Microfine sanding sponge thinking that the primer needed a little "tooth" to adhere to. My second attempt worked better, with the primer sticking to the plastic. For the 3 tones of grey I used Polyscale acrylic paint, lightened with white for the scale effect, which airbrushed very well at 35 lbs. I used Tamiya masking tape and Post It notes for the masking. A light sanding and a couple coats of Future gave the model a glossy finish suitable for decaling. I did not glue the air inlet to the model until after the painting was done.

The only modification to the kit was the addition of a True Details ejection seat. The stock seat is pretty simplistic, but would be OK if you added belts and left the canopy down.
I attempted to tint the canopy using Future and food colouring. I failed miserably, so into the Pinesol went the canopy. I will have to try other techniques to get a good canopy tint in the future (no pun intended).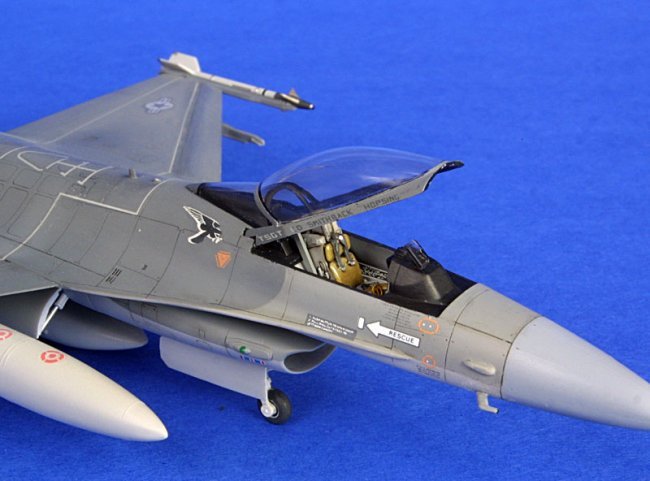 Prior to flat coating the F-16, I ran a wash of lighter fluid and artist's oil paint into the recessed panel lines. The excess wash was removed by lightly sanding with the 3m Microfine sanding sponge. I also used the wash on the landing gear and wheel well areas to bring out the nice detail.

I used the much vaulted Aeromaster flat acrylic for the finish coat. I bet Polyscale's acrylic flat is the same thing as they were both made by the same company.
Don Weixl