1/48 Hasegawa A-7E Corsair II "Last Mission"
| | |
| --- | --- |
| | Gallery Article by Brian Marbrey |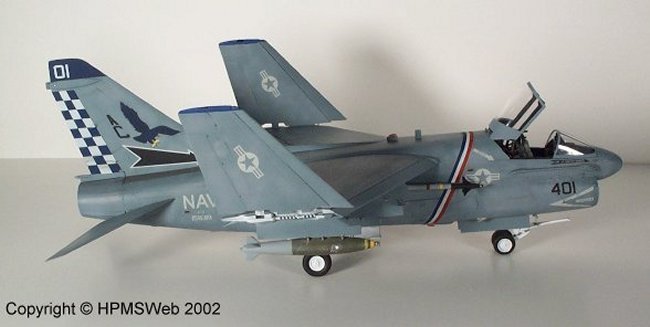 During Desert Storm, the last 2 squadrons of the mighty S.L.U.F. saw combat for the last time. One of which, was VA-72, the "Blue Hawks".

This is Hasegawa's A-7E "Last Mission" kit, which caught my eye at the local shop about 2 years ago. Sometime earlier this year, I obtained a Black Box pit from Jarrod Cunning decided it was time to break down and build it. This is actually my second A-7E, which the first resides (or did) in the Navy recruiting office downtown.

Kit construction was pretty straight forward, with special care given to the intake, as it has a nasty seam. The Black Box pit took a little extra time to install due to dry fitting and sanding, but eventually fell into place.

The decals are from the kit, and conformed well into all the rivets and raised surfaces using Micro-Set and Micro-Sol. Stretching the red, white, and blue across the top of the fuselage was no easy task, but with care, patience, and setting solution it conformed beautifully.

I painted the model using Model Master FS 35237 overall Medium Gray, and again used a reversed shading effect to simulate fading. I probably should have "spot prima lot34; alot more, but felt the finish was to my satisfaction. After the gloss coat, I ran my ink roller through some of the lines, took wet tissue paper, and wiped in the direction of air flow to simulate fuel streaks.

Everything was sealed with a flat clear coat, and the canopy attached. This is a great kit, and it felt good to complete something other than an F-14 for a chan even though I would like to finish more F-14's!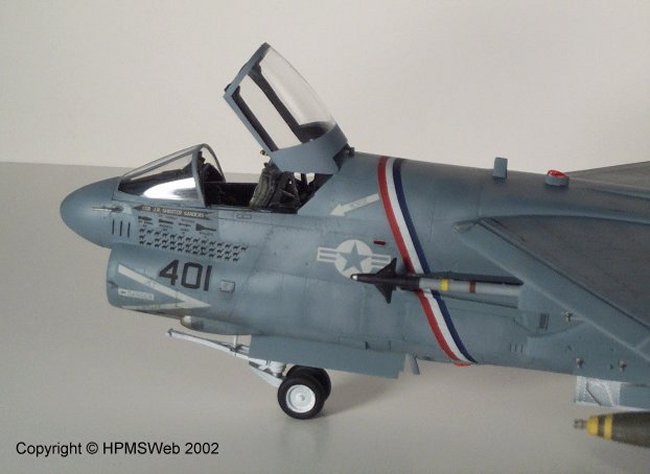 Special thanks goes out to Tom Clark for taking the photos.
Enjoy
Brian Marbrey