1/48 Revell B-1A
| | |
| --- | --- |
| | Gallery Article by Moon-Gon Jo |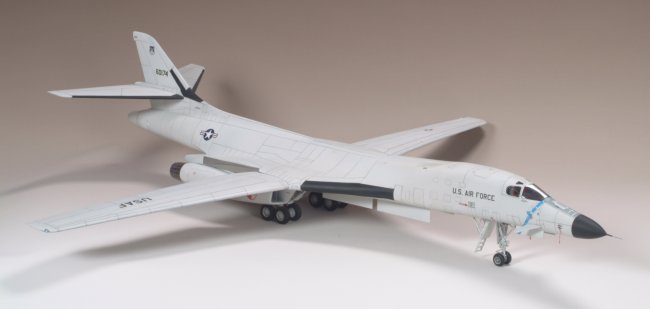 Revell 1:48 B-1A No.4 (latest type) "White Scheme"

Introduction
This is my 3rd Revell 1/48 B-1B kit and my first article on ARC. I dare to give the best grade for the 1/48 Revell B-1B of any kit which has been produced in the world. Its gigantic size, relatively cheap prize compared with its contents, and details etc. Anyway, there are many reviews on this kit so I will move on and tell about my particular build.
The building
B-1A? or B-1B?
Because the kit reproduces the early B-1B, it requires some converting and resin sets to make current B-1B, such as many antennas which are omitted in the kit and more importantly a non-feathered exhaust nozzle set (this resin kit is hard to locate and purchase in my country). Also it has many differences from B-1A such as panel line, shape of overwing fairing, and tailcone. In any case, the perfect B-1A or B-1B can not be made without conversions. Thus I decided to make the white B-1A No. 4. 
The B-1A No.4 had been modified to various shapes during many years. Because the manufacturer, Rockwell International went on with testing and development after the cancellation of the B-1 production program. So general appearance of the latest B-1A No.4 is closer to early B-1B in the late-1970s (for example, blunt tailcone) rather than a B-1A. The latest B-1A No.4 has some differences when compared to the early B-1B, for example, Panelline, engine intake, overwing fairing and etc. However as I was anticipating hard work in the painting process, I didn't convert them. But I added two pair of antenna on the nose, and a thin nose boom. Therefore my B-1A is not real B-1A. I had much trouble during the joining of nose and fuselage. You should pay careful attention here, because is a very important area which begins the unique curved outline of B-1. 
Painting & Markings
I put emphasis on painting this time. It was the "War against White". B-1A has almost white except black dielectric panel of wing glove and tail. I tried to make it clean and simple without any weathering. I used spray cans for painting the overall body (Gloss White FS17875) and is took 8 cans to complete this task!!

I put much effort into the exact reproduction of the latest B-1 No.4. markings (light blue SAC stripe of nose, aircraft number 60174, registration mark on engine nacelle and red and white circle on the engine nacelle etc.) and I invested much time to accurate paint the weapon bay's.  Anyway, painting required much time and effort and caused me some grief.  
Conclusion
In fact, my B-1A is all but an early B-1B. I prefer to liken it to a B-1B which has put on a B-1A's "MASK". In the future I'll Show the 'real' B-1A. I'm currently building another B-1A...
Moon-Gon Jo