The B-58A Hustler was the first U.S. bomber capable of Mach 2 speed. It was designed to fly at high speed and altitude to avoid Soviet fighters, but with the advent of high-altitude surface to air missiles, the B-58A was forced to fly its mission at low altitude and was not successful due to high fuel consumption. First flown in 1956, it served only 10 years, 1960-1970 due to high maintenance costs and a high accident rate. The Hustler was powered by four GE J-79 engines giving it a speed of 1.300 mph, a climb rate of 17,400 fpm (46,000 with a light load), a range of 4,700 miles and a service ceiling of 63,000 feet. It carried a single nuclear weapon and fuel in a centerline pod (it was later modified with hardpoints on the wings to carry a total of 5 weapons). In-case a MiG did catch it, a 20 mm radar directed cannon was mounted in the tail cone. In spite of its short service life, I think it is one of the most beautiful and extreme high-performance aircraft in USAF history.

The Model
My good modeling friend Harry had this 35-year-old kit in his stash for years being apprehensive about the required NMF. I volunteered to build it with an Alclad II finish and after 40 hours, itís finished. The kit, although accurate in shape, is not one of Italeriís better models and Iím being kind. But during the research portion of the build, I became enamored with the B-58 Hustler!
The most difficult aspects of the kit were the 2nd and 3rd crew hatches that were too small for the opening and required building up with sheet sprue and a lot of putty, sanding and polishing. I did not bother with the interior details as they canít be seen. Black decal windows were applied to these locations.
Also, there were no locating pins/holes for the inboard engines and all 4 engines fit to the wing poorly. I drilled locating holes in the wings and added aligning pins to the engines and cleaned up the fit. The control surfaces and other areas were painted Tamiya Silver Leaf, a contrasting hue to the Alclad, but I think there was too much contrast, so lesson learned, but I am happy with the final result as well as getting it off my work bench! As the kit decals were perished, I ordered the excellent Caracal sheet CD 72024 with 19 aircraft options. I selected ďThe Bendix Trophy WinnerĒ that flew from LA to NY in just 2 hours!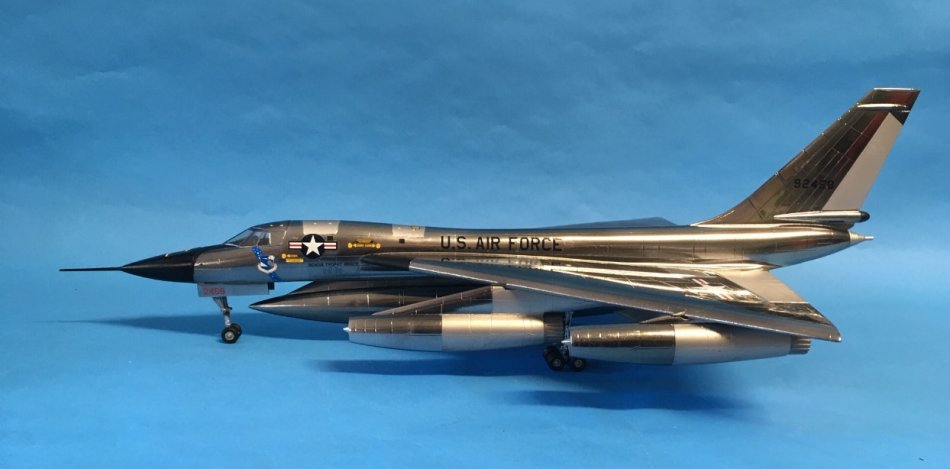 So, what was the good news with this kit? It was such a beautiful aircraft that just begged to be built! I hope you like your Hustler Harry?
H. Davis Gandees