My building to completion of partially built kits from over 20 years ago continues, this time with a no longer produced Accurate Miniatures (AM) IL-2m3, which was the WWII Soviet mainstay of its tactical fighter bombing force, serving the same function as the USAAF P-47 and P-51.
Itís truly a shame AM is no longer in business, as its menu of kits was superb in detail and scale. Just reviewing the Gallery portion of ARCís website attests to its popularity for propeller type modelers; Iím now honored to be part of that select group. The building of the kit was effortless; AMís engineering was flawless even a generation ago. Over 80% of my time on this kit was devoted to duplicating the coloring and wear look of the typical Sturmovik, as they were literally used Ė with minimal maintenance - until shot down by German aircraft or AA, suffered engine failure on a mission, or made a crash landing.
I recall only buying a Verlinden cockpit set for this kit in the 1990s. That, plus marshaling handfuls of period photos of IL-2m3s, very few of which were in color. On this note, it was hard to beat the color paintings that came with AM kits.
As for the weathering, I borrowed from all my knowledge and tried new techniques: Besides the multi-shade airbrushed colors, I used silver enamel to drybrush worn edges on wing access panels; I used ground white and grey pastel chalk, then lightly brushed large wing areas, stirring the powder to get a uniform distributed look; for the underside, I used both oil wash, airbrushed diluted black enamel, and black pastel. Fine fishing line was used for the antenna.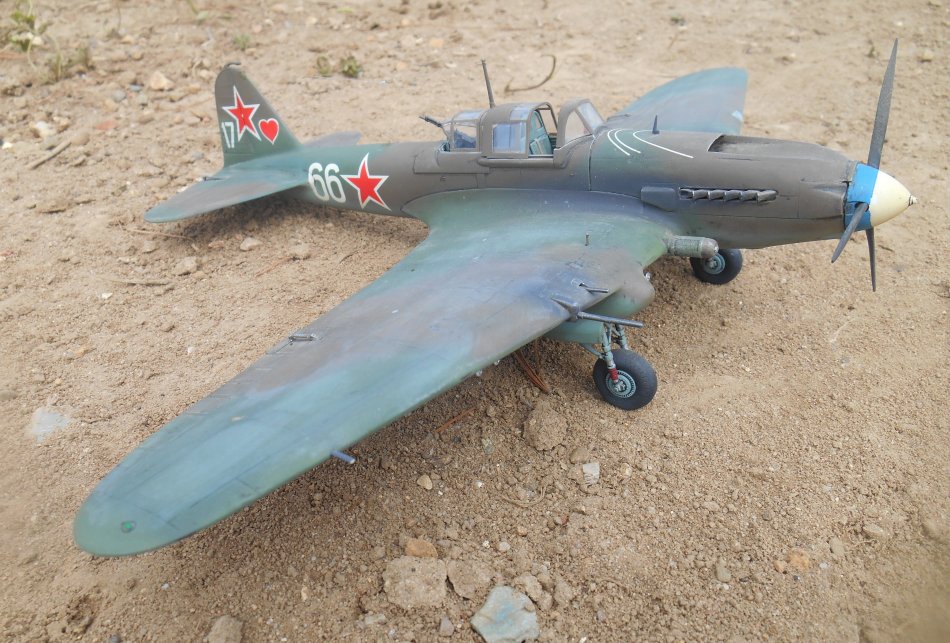 Finally, I attempted to portray a normal landing spot for a wartime IL-2m3, namely either a grass or dirt patch large enough to land the plane for refueling and rearming, so I used a cleared patch of farm land for my camera work. The IL-2m3 was typical of Soviet aircraft, in that they were built to take the beating on hard fields relatively close to the front line. I believe the precision-made USAAF bombers and fighters would not have withstood the abuse if treated like Russian planes, which is why the US airplanes need the concrete and/or steel matted runways made for them. Plus the allies had the manpower in numbers and with the technical skills to build optimal airfields.
Carl Jarosz