The theme of this Eduard kit is "Very long range. Tales from Iwo Jima". The versions provided tell the story of the squadrons of P-51Ds that were stationed on the tiny Island of Iwo Jima, to escort the B-29s on their bombing runs over Japan or attack targets in Japan themselves. Some aircraft arrived on Iwo Jima before the Island was conquered completely and participated in the fighting.
The kit includes no less than twelve different liveries and some of these specific aircraft can be made in more than one version. And a superb kit it is. Perfect fit throughout and a logical division of parts make the build easy as a whole.
As a result, construction went off without a hitch. Honestly, there isn't much to tell apart from it being a very pleasant build. The only thing that needs attention is keeping track of the special features that go with the version you choose.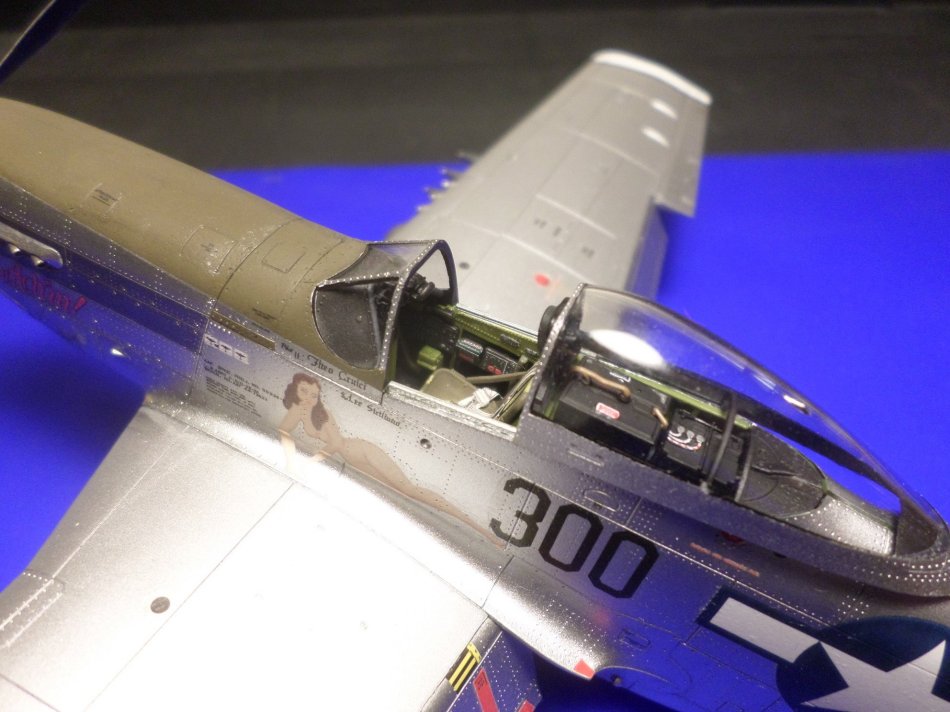 Painting involved lots of tape, since I chose P-51D-25 44-73623 which was initially flown by Maj, Harry C. Crim but later on by Flt.Off. Theo Gruici of 531st FS of the 21st FG. Flt.Off. Gruici added a luscious lady on the port side of the fuselage, which is the version I choose to make. The wing tips and tail were adorned with black and white stripes. This, in combination with the different aluminium surfaces forced me to deplete my tape stash. However, I think it was worth it. I kept the weathering to a minimum with a light wash, just a few petrol streaks and sand and dust around the wheels.
Enjoy the pictures.
Klaasjan Schuuring
Click on images below to see larger images