The MiG-23MF served in the Indian Air Force in two squadrons – 223 Sqn (Tridents) and 224 Sqn (Warlords). The Tridents soon converted to the MiG-29, but the Warlords operated the MF till they were finally retired from IAF service. They were primarily used for air defence, but were capable of ground attack, and in their later years were also modified as a target tug, towing a banner for airborne gunnery practice.

This kit is actually the Trumpeter MiG-23M, not the MF – which meant that I had to add a central spine to the canopy, the most obvious external difference. The kit is built OOB, with no aftermarket items, but some amount of scratch-building has been done to add details and some IAF specific antennae etc. The level of detail out of the box itself is very good - as is the case with most of Trumpy's 48 scale offerings - but there are many inaccuracies, probably to cater for commonality of sprues between the five MiG-23/27 kits in their 48 scale line-up. Some of these I corrected and the others I didn't bother with. The fit is generally good but I faced problems in mating the upper fuselage section to the forward as well as the lower fuselage – though that may just be my own error somewhere. A fair amount of superglue was used to overcome this. The main landing gear is another problem area – complicated construction, and some parts are an impossible fit. The stance of the aircraft is also incorrect – being level rather than distinctively tail-down as earlier versions of the MiG-23 were. This required some surgery on the main landing gear assembly to correct. Once complete though, the end result is quite nice.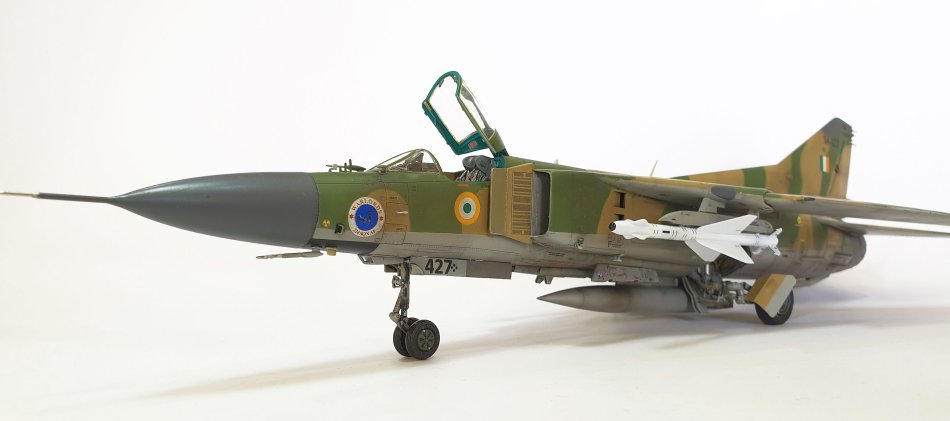 I used the pics of SK427 on bharatrakshak.com as a reference for the camouflage scheme, as well as some walkaround photos of MiG-23s on the net for details. I added scratch-built details to the cockpit coaming, instrument panel, ejection seat, canopy, pitot heads, various antennae, landing & taxi lights, fuel drain pipelines, wheel bays and landing gear legs for better accuracy. Decals are a combination of kit decals (some stencils etc), Bright Spark (national markings) and homemade (stencils, serial numbers). Paints used are Daler-Rowney, Italeri, Revell and Vallejo acrylics, followed by an oil wash and weathering using pastels.
Happy Indian Republic Day 2021 and Best Wishes from India
Bob TheDoc
Click on images below to see larger images